It is easy to lose sight of the transformative change under way in the U.S. electric sector in the daily news cycle, but that change is most definitely occurring, and more quickly than many realize.
DTE Energy, a large electric and gas utility in Michigan, said last week that it would close the last two units at its massive Monroe coal-fired power plant in 2032.
The four-unit Monroe facility has a net summer generating capacity of 3,062 megawatts (MW), which makes it the third-largest operating coal plant in the U.S., behind Georgia Power's 3,200MW Bowen plant and Duke's 3,132MW Gibson plant. The announcement, part of a settlement agreement regarding the company's integrated resource plan now pending before the Michigan Public Service Commission, is particularly noteworthy because it was just eight months ago that DTE first proposed moving the closure date up to 2035; it had previously been 2040.
Going slightly further back, it was only in 2021 that DTE first mentioned closing any of the four Monroe units before 2040, and it was just in 2017 when the utility announced any closure plans at all for the facility.
In the utility world, that is lightning fast.
The benefits of closing are clear, as DTE acknowledged in its announcement, noting that the early closure of Monroe coupled with the tax credit provisions in the Inflation Reduction Act would cut its transition costs by $2.5 billion. Left unsaid by DTE, but another major benefit, the early closure will remove the third-largest emitter of carbon dioxide (CO2) from the U.S. electric grid. The plant emitted 16.29 million tons of CO2 in 2022, behind only Southern's James Miller plant in Alabama and Ameren's Labadie plant in Missouri.
In addition to closing Monroe, DTE is committed to building more than 3,000MW of renewable energy by 2030 and 780MW of battery storage under the negotiated settlement. Beyond that, the company agreed to raise the cap on rooftop solar installations from 1% of its peak load to 6%, enabling significant further expansion of this distributed resource. Finally, it also will stop using coal at its two-unit, 1,270MW Belle River plant by 2026, converting it to a gas-fired peaking facility.
Similar signs of rapid change are evident in California, where the grid operator said last week that the amount of battery storage capacity installed in the state had climbed to 5,600MW—up from just 500MW in 2020. Much more growth is on the horizon. The California Public Utilities Commission has directed the state's utilities to install at least 10,000MW of battery storage by 2026.
These stored megawatts are already playing a big role in daily grid operations as the figure below indicates. During the day, storage can absorb excess solar and/or wind production, preventing it from being curtailed. Then, as solar production falls off in the evening the battery units can discharge back into the grid, lessening the ramping required of the state's gas generators.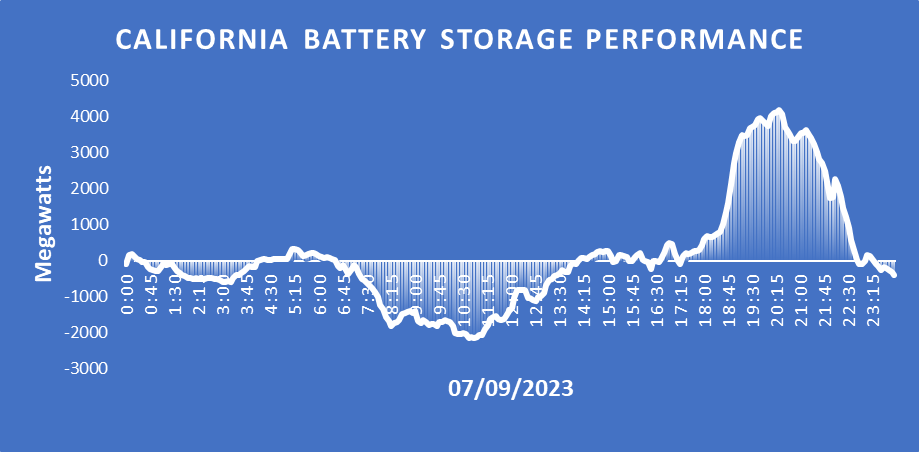 Source: California ISO
Finally, the rapid buildout of solar generation in Texas has played a key role in helping ERCOT meet electricity demand this summer, which has already hit multiple record highs first in late June and then again last week.
During the last two weeks of June, a heat dome pushed electricity use up across the state, with new records set first on June 26, when demand hit 80,155MW, edging above the previous record from July 2022, and then again the next day, when demand climbed to 80,822MW. At the peak hour on the first record-setting day, solar provided 14% of ERCOT's overall demand; on the second day, it accounted for 12% of demand.
That reliability continued through the first two weeks of July as well. On July 12, when ERCOT demand rose to another record (reaching 81,347MW), solar came through again, generating 13% of total demand during the peak hour. Solar did even better the next day, another record-setter at 81,394MW, generating 11,640MW during the peak hour, accounting for 14% of overall demand.
Quick transitions are happening across the U.S.
For the four weeks beginning June 14, solar generation at the peak hour averaged 13.6% of demand, and its generation range was narrow, from 10.5% to 15.3%. In other words, solar is a reliable, predictable summer resource, particularly at the peak demand hour when it is most needed.
From not being separately tracked as a generation resource in 2016, solar has grown quickly. It accounted for 5.6% of total annual ERCOT demand in 2022 and is poised to push well above that this year. Through the first half of 2023, solar has provided 7% of ERCOT's overall demand, up from 5.6% during the comparable period in 2022. This strong solar performance should be a clue for policymakers across ERCOT to push for the resource's expansion.
Sometimes you just have to look beyond the headlines to see them.