Wind and Solar Provided a Record 44 Percent of Total Electricity Generation in January
The latest monthly electricity data out of Uruguay shows wind and solar generation continuing to grow, reaching 44 percent of total generation in January, a new record that surpasses a 42 percent record set in December.
A profoundly instructive example that can be applied in countless other countries.
Growth in variable renewable power market share in Uruguay has been dramatic, and the country has become a showcase for what is possible with strong cross-border interconnection and a flexible grid.
The boom has unfolded very quickly. The country last year got 33 percent of its electricity from wind, up from 1 percent in 2013. That's a 132 percent increase.
Because wind and solar power are variable, they pose certain challenges for grid operators.
Yet, as Uruguay has shown, and as we detailed in a report we published earlier this year — "Power Industry Transition: Here and Now" — grid operators have various operational mechanisms at their disposal to smooth the grid integration of high levels of variable renewables such as wind and solar.
Such steps included incentivizing flexible back-up generation to balance the variability of wind power and using cross-border interconnection to export generation surpluses when wind and solar power are fully available.
Uruguay has both excellent flexible hydropower, and good interconnection into Argentina and Brazil, contributing to the country's extraordinary growth in wind and solar market share.
That puts the country in second place in a global ranking of national wind and solar power market share, behind Denmark, and offers a profoundly instructive example that can be applied elsewhere and in any number of other countries.
Uruguay's Monthly electricity generation mix, MWh, Jan 2000 – Jan 2018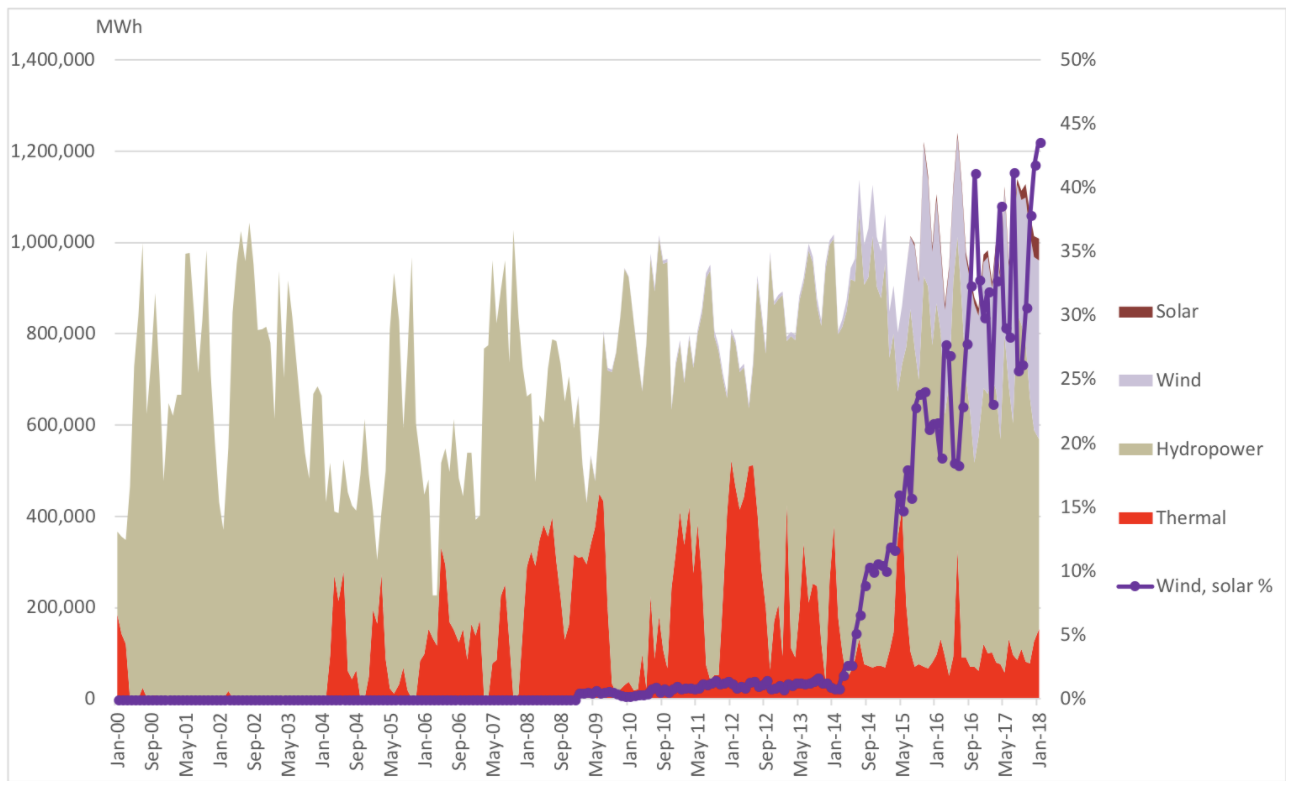 Gerard Wynn is an IEEFA energy finance analyst.

RELATED ITEMS: 
IEEFA Update: A Brave New World Is Taking Hold in the Grid Integration of Renewables
IEEFA Update: Renewables and Grid Stability Go Hand in Hand
IEEFA Report: 'Here and Now' — Nine Electricity Markets Leading the Transition to Wind and Solar