Markets Will Not Support Expansions and Developments Proposed in Alaska, California and Washington State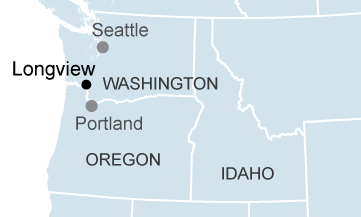 The outlook for coal markets off the West Coast of the U.S. continues to weaken.
This fast-developing erosion is rooted in a structural, long-term move that makes elaborate coal-export schemes more and more ill advised as coal's decline deepens. Projects pitched, for example, at Longview, Wash., at the Port of Oakland, and for the Chuitna River near Anchorage today are more pie in the sky than ever.
Proponents push them, nonetheless, because one way or another they bring taxpayer-funded subsidies to the increasingly desperate U.S. coal industry. Coal producers are seeing domestic demand for coal-fired electricity generation falling, and so the industry is placing a huge if misguided bet on foreign markets.
Wall Street has sat up and taken sharp notice in just the past few weeks:
UBS has issued a research note projecting coal's domestic share of electricity generation dropping to 18 percent by 2030 from 38 percent today. The trend UBS is picking up on is driven by long-term low natural gas prices and continued market-share incursions by renewables and energy efficiency initiatives.
Deutsche Bank says its modeling shows China becoming a net exporter of coal, adding 100 million tons per annum to global markets by 2030 and reducing its import demand to zero. China consumes almost as much coal as the rest of the world combined and its export-import shift is going to create a significant, permanent reduction in global demand.
Goldman Sachs has lowered its price outlook for global thermal coal over the next several years, expressing a deep lack of confidence in the market and a firm belief that coal is in oversupply.
Citi sees continued coal-industry distress through 2016.
Investment bankers aren't the only ones are clued in to what's happening. In the face of rapidly declining 2015 export deliveries of U.S. coal, the Energy Information Administration has lowered its forecast for U.S. coal exports to 73 million tons in 2016, down from an estimated 76 million this year. This trend speaks volumes and tracks a drastic falloff from the 125 million tons exported in 2012, the peak year for U.S. coal exports.
Driving the reality home comes news last week that Usibelli Coal Mine, Alaska's only coal producer and the model that a Texas-backed company says it wants to follow in its development of a coal project on the Chuitna River, is closing its export operations through 2016.
U.S. coal-industry fundamentals are falling apart, as seen in prices, production, contract orders and competition. And while day-trading and penny-stock news is dominated by coal-stock volatility, the industry's fundamentals continue to sink as the third-quarter earnings season approaches.
Tom Sanzillo is IEEFA's director of finance.