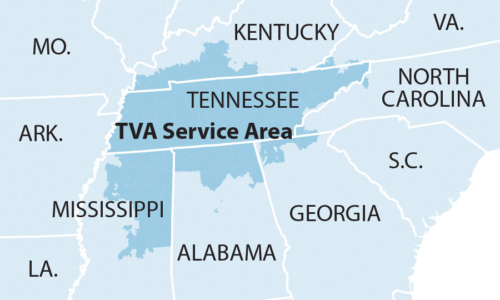 The transition away from coal by the Tennessee Valley Authority (TVA), one of the nation's largest electricity generators, has been swift.
Since 2007, the utility has retired thousands of megawatts of coal-fired generating capacity, diminishing coal's share of TVA's electricity generation to roughly 25% from 58%. More retirements are in the offing following a recent TVA board decision to close its Paradise and Bull Run coal-fired plants, in 2020 and 2023, respectively.
Much of the now-shelved capacity was old and uneconomic, all but waiting to be pushed into retirement. A new electricity-generation paradigm is unfolding, however, and going forward, the question is whether any new coal plants will ever be built.
Judging by TVA's latest long-term resource planning initiatives, the answer is an emphatic no. Even when the utility examines extremely optimistic scenarios for energy demand growth over the next 20 years, coal loses out to more economically competitive choices, including renewables, demand response options and natural gas.
TVA found that no new coal-fired generation was needed
The draft integrated resource plan (IRP) that the TVA released last month looked at five strategies for meeting capacity needs in its seven-state service territory through 2038. It analyzed each strategy using six different scenarios based largely on expectations of future energy demand growth (scenarios included a base case, a slow-growth option, a high-growth assumption and three others). In sum, 30 cases in all, including five projecting high demand growth that would require the addition of at least 10,000 megawatts (MW) of new capacity over the next couple of decades. Not one of those cases showed building a new coal plant to be economic, not even the highest of the high-growth scenarios.
Therein lies coal's existential dilemma, as many industry supporters have argued that one of the key factors behind the decline of coal-fired generation has been the absence of electricity demand growth in the U.S. The recent TVA analysis, however, indicates deeper problems.
As outlined by TVA, a high-growth scenario would increase the utility's peak load by 1.7%, pushing it from about 30,000 MW today to more than 40,000 MW by 2038. However, since 2001, TVA's peak load has bounced around 30,000 MW, but has shown no real growth.
Even more significantly, TVA's high-growth scenario projects that energy needs will climb from 163,000 gigawatt-hours (GWh) currently to almost 240,000 in 2038, an annual increase of about 2%. This trend is shown in the chart below, with the green line representing increased demand under the utility's high-growth scenario.
In addition to increases in peak demand and overall energy needs, the high-growth scenario sees natural gas prices as rising throughout the forecast period, from under $3 per million British thermal unit (mmBtu) today to $6/mmBtu by 2038.
Not surprisingly, the forecast growth IN THIS SCENARIO implies a significant need for new generating capacity by 2038. In all, TVA calculates under this scenario that it would have to build 20,000 MW of generating capacity incrementally over the next 20 years. This would seem to be the perfect scenario in favor of new coal-fired generation—and yet the analysis does not support this conclusion.
Rather, TVA found that no new coal-fired generation was needed, even in the various high-growth scenarios. Indeed, TVA said that in most of the scenarios it studied, "additional coal units were retired beyond those currently planned, ranging from about 800 to 3,000 MW, depending on the scenario and strategy combination."
TVA's modeling found that the most economic means of meeting needs in the high-growth scenarios would involve building lots of new solar and gas capacity. Specifically, the analysis projects that from 8,000 to 10,000 MW of new solar capacity and more than 14,000 MW of new natural gas (both combined cycle and combustion turbines) would need to be added to TVA's system in the high-growth scenarios.
Despite this upshot, solar proponents may be unhappy with the findings. Overall, even with the 8,000 MW-plus of new capacity, TVA still projects renewable energy (including hydro resources) accounting for only 18% to 23% of its generation portfolio by 2038.
Nevertheless, the findings are crushing for coal: 30 different scenarios for growth over the next 20 years, and not one points to coal as being the economically sound choice.
Dennis Wamsted is associate editor at IEEFA.
RELATED POSTS:
IEEFA report: Coal Outlook 2019: Utilities transitioning away from coal towards natural gas and renewables
IEEFA report: Powder River Basin coal industry is in long-term decline
IEEFA report: Business case for acquiring failing plant and Kayenta mine poses 'serious financial risk' to Navajo Nation