Utilities transitioning away from coal towards natural gas and renewables
New York, March 26, 2019 (IEEFA) — The long-term structural decline of the U.S. coal industry continued in 2018, with a record total of coal generation capacity retired and a further drop in utility coal consumption to levels not seen since the early 1980s, according to the Coal Outlook 2019 released today by the Institute for Energy Economics and Financial Analysis (IEEFA).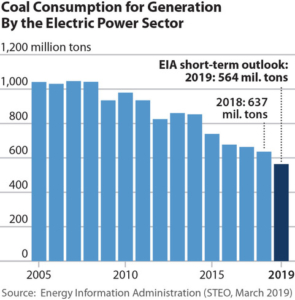 Based on data from the Energy Information Administration (EIA) and other sources, IEEFA sees the sector's performance in 2018 as a continuation of the downward trend that has plagued the sector in recent years.
This year, the outlook is worse, with the latest forecast from the Energy Information Administration (EIA) projecting that coal's share of the electric generation sector will drop below 25%, the lowest level since 1949.
IEEFA analysts expect the erosion of the utility market for coal to accelerate through 2019 and into the coming decade due to a combination of factors that have fundamentally changed the domestic electricity generation sector, the prime market for the U.S. coal industry. These factors include:
The fracking revolution, which has turned natural gas from a premium fuel into a readily available, low-cost baseload generation resource;
Declining costs in the renewable energy industry, particularly in wind and solar, a trend that has already resulted in clean, reliable alternatives to coal;
The aging of the coal fleet, which has significant negative impacts on operating performance and costs;
Significant changes in grid operations, driven by the three factors above, which continue to undermine the importance of coal generation;
Growing utility sector interest in, and planning for, coal generation phase-outs;
Rising corporate interest in greener energy resources and sustainable development practices, and
Growing concern about climate risk and carbon dioxide emissions.
The only piece of good news for the coal industry in 2018 was the growth in coal exports, a development that was understated in IEEFA's forecast last year.
"We find that in 2019, there will be no turnaround for coal," said IEEFA editor and co-author of the report Dennis Wamsted. "We believe that market forces are driving a transition away from coal toward cleaner fuels, and this transition will continue to gain steam in 2019 and in coming years."
Link to the full report: Coal Outlook 2019 – Domestic Market Decline Continues
About the Authors
Dennis Wamsted is associate editor at IEEFA, [email protected]
Seth Feaster is a data analyst at IEEFA, [email protected]
David Schlissel is director of resource planning analysis at IEEFA, [email protected]
About IEEFA
The Institute for Energy Economics and Financial Analysis (IEEFA) conducts global research and analyses on financial and economic issues related to energy and the environment. The Institute's mission is to accelerate the transition to a diverse, sustainable and profitable energy economy.
Media contact
Vivienne Heston, IEEFA, [email protected], +1 (914) 439-8921