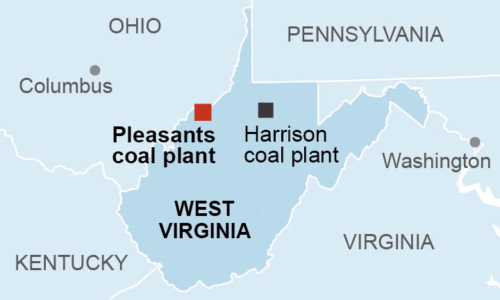 It's to the benefit of ratepayers that FirstEnergy this week announced that it will drop its scheme to transfer the Pleasants Power Station from deregulated subsidiary Allegheny Energy Supply to West Virginia regulated subsidiaries Mon Power and Potomac Edison.
The move would have shielded the coal-fired Pleasants plant from market competition, forcing West Virginia ratepayers to cover its costs to the tune of $470 million over the next 15 years.
FirstEnergy's announcement comes on the heels of two unfavorable regulatory decisions. The Federal Energy Regulatory Commission rejected the proposed transaction last month. The West Virginia Public Service Commission then approved the transaction but placed conditions on the sale that would have required FirstEnergy to bear some of the financial risk.
The West Virginia commission sought essentially to have FirstEnergy to put some skin in the game, rather than allowing the company to place only ratepayers' money at risk should electricity market prices fail to increase as FirstEnergy had forecast in testimony to justify the deal. FirstEnergy chose not to make that bet, admitting in essence that it lacked confidence in its own economic predictions.
FirstEnergy chose not to appeal the FERC decision and not to accept the conditions that the West Virginia PSC had sought to impose, conditions the company said "would result in Mon Power assuming exposure and significant commodity risk, which is inconsistent with FirstEnergy's announced corporate strategy."
The proposed Pleasants transfer was opposed at FERC and at the West Virginia PSC by clean energy advocates including Solar United Neighbors of West Virginia and Energy Efficient West Virginia, represented by Earthjustice; the West Virginia Consumer Advocate; the West Virginia Energy Users Group; and the Sierra Club.
THE FIRSTENERGY ANNOUNCEMENT MARKS THE LATEST DEVELOPMENT IN A SERIES OF BAILOUT CAMPAIGNS by FirstEnergy over the past several years—campaigns that regulators are increasingly less willing to tolerate.
The company has sought various ways to force customers of its regulated utilities to subsidize merchant coal and nuclear power plants that have struggled to compete in wholesale electricity markets. A prime instance of that strategy actually worked in 2013, when FirstEnergy succeeded in transferring ownership of the Harrison Power Station from a deregulated generation company to its West Virginia regulated subsidiaries—a deal that by IEEFA's calculations cost West Virginia customers more than $160 million in just its first three years.
FirstEnergy didn't fare as well in a subsequent campaign to have Ohio electric customers subsidize its Davis-Besse Nuclear Power Station and its coal-powered W.H. Sammis Plant, although it did manage to get a three-year, $600 billion bailout (with a potential two-year extension) from the Public Utilities Commission of Ohio.
It is widely anticipated now, especially after the Pleasants decision, that FirstEnergy's deregulated generation business will file for bankruptcy sometime in the first half of this year.
Cathy Kunkel is an IEEFA energy analyst.
RELATED ITEMS:
IEEFA Update: In Ruling Against Another Bailout Scheme by FirstEnergy, FERC Strikes a Blow Worth Hundreds of Millions for Ratepayers
IEEFA Report: FirstEnergy Strategy of Re-Regulating Plants in West Virginia a 'Boon' to Company and a 'Burden' to Ratepayers

IEEFA West Virginia: If Power Plant Is So Valuable, Why Is FirstEnergy Seeking to Transfer All the Risk to Ratepayers?