More Bad News for an Out-of-Step Electricity Company Struggling to Stave Off Bankruptcy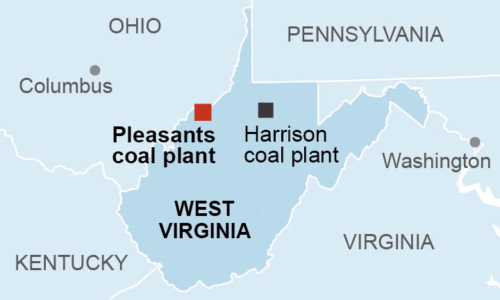 By rejecting a bailout maneuver last week in West Virginia by Ohio-based FirstEnergy, the Federal Energy Regulatory Commission last week ended up protecting Mon Power and Potomac Edison customers from incurring hundreds of millions of dollars of unnecessary costs over the next 15 years.
FirstEnergy's scheme would have transferred the Pleasants Power Station, which is on the Ohio River just north of Parkersburg, from its deregulated subsidiary Allegheny Energy Supply to West Virginia regulated subsidiaries Mon Power and Potomac Edison. The move would have amounted to a bailout of FirstEnergy's failing deregulated generation business.
The proposal was part of FirstEnergy's multi-year strategy to exit the unregulated generation business, a campaign the company has been pursuing for good reason. FirstEnergy's unregulated coal and nuclear plants, including Pleasants, have been struggling to compete in the competitive power markets because of low wholesale power prices—a trend that has been sustained by low natural gas prices, rising renewable energy penetration and relatively flat electricity demand. FirstEnergy, to counter these market trends, has been either selling off its unregulated plants or attempting to transfer them to regulated ownership, which in essence guarantees a return.
Trying, and failing, to dump money-losing assets onto customers.
FirstEnergy's blueprint along these lines began with the transfer of the Harrison Power Station south of Morgantown to Mon Power and Potomac Edison in 2013, a deal that was approved by both the Federal Energy Regulatory Commission and the West Virginia Public Service Commission. A 2016 IEEFA report found that the Harrison deal had cost West Virginia ratepayers over $160 million in just its first three years.
IN THE PLEASANTS CASE, MON POWER HAD ISSUED A QUESTIONABLE REQUEST FOR PROPOSALS for additional power plant capacity, and Pleasants was the winning bid. The RFP process unfolded after FirstEnergy's CEO had stated publicly that his plan to transfer Pleasants to Mon Power—so the process was clearly rigged to achieve the parent company's desired outcome.
FirstEnergy, which needed approval from the federal and state commissions to proceed with the transfer, was challenged in both venues by West Virginia Solar United Neighbors and Energy Efficient West Virginia and by the Consumer Advocate Division of the West Virginia Public Service Commission (jointly represented by EarthJustice). FERC in its final order on the case embraced many of the arguments advanced by these parties.
FERC found that Mon Power's RFP was uncompetitive, and in its order last week said that while Mon Power could apply again to purchase Pleasants it would have to re-do its entire RFP process and correct the deficiencies that biased the request in favor of Pleasants.
Before the ruling, FirstEnergy had expressed confidence to investors that the Pleasants sale would close in the first quarter of 2018, a position that in the end turned out to be obviously misguided. Even so, a lawyer from FirstEnergy, concerned that FERC might rule against the company, made an improper communication last week ahead of the ruling with one of FERCs commissioners in an apparent effort to influence the agency's decision.
THIS IS THE SECOND TIME THAT THE FEDERAL REGULATORY COMMISSION HAS DENIED A PROPOSAL BY THE COMPANY to transfer pieces of its struggling merchant generation business onto customers of its regulated utilities.
In 2016, FERC rejected a play by FirstEnergy to have its Ohio electric customers bail out unregulated coal-fired W.H. Sammis Power Plant and Davis-Besse Nuclear Power Station. In that case, although the scheme had been approved by the Public Utilities Commission of Ohio, FERC found that FirstEnergy's proposal would have undermined competition in the deregulated electricity market by giving an unfair advantage to Sammis and Davis-Besse. (FirstEnergy was able to return to the Public Utilities Commission in Ohio with a restructured proposal that avoided FERC's jurisdiction, resulting in a three-year, $600 million bailout by northern Ohio ratepayers).
This latest FERC rejection is more bad news for FirstEnergy, which was already in negotiations with creditors to stave off a potential bankruptcy of its largest merchant generation subsidiary, FirstEnergy Solutions.
The Pleasants transfer would have resulted in a nearly $200 million payment from Mon Power that would have been available to FirstEnergy Solutions. Without this liquidity, FirstEnergy Solutions' financial outlook is weaker than ever. Even if FirstEnergy were to try again to transfer the Pleasants plant to Mon Power, it would not be able to re-do its RFP process and obtain the necessary regulatory approvals on a timescale that would help FirstEnergy Solutions.
Cathy Kunkel is an IEEFA energy analyst.
RELATED ITEMS:
IEEFA Report: FirstEnergy Strategy of Re-Regulating Plants in West Virginia a 'Boon' to Company and a 'Burden' to Ratepayers

IEEFA West Virginia: If Power Plant Is So Valuable, Why Is FirstEnergy Seeking to Transfer All the Risk to Ratepayers?
IEEFA West Virginia: A Utility Double-Talks Itself Into a Corner as It Seeks a Ratepayer Bailout for Its Corporate Owner