Mon Power Says It Has an Abundance of Generation Capacity. Mon Power Also Says It Needs to Buy a Failing Coal Plant From FirstEnergy.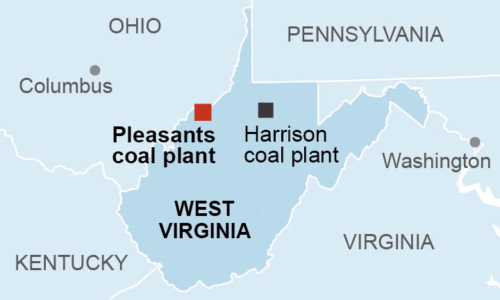 After gaining approval from regulators for a $600 million bailout in Ohio, FirstEnergy turns to West Virginia for its next ratepayer-subsidized relief act.
The company is orchestrating the sale of its deregulated Pleasants coal plant on the Ohio River just north of Parkersburg to its regulated West Virginia subsidiary, Mon Power (regulated is code for ratepayer subsidized). The deal would have FirstEnergy's West Virginia ratepayers pony up for the costs of a plant that is struggling to compete in the deregulated market.
It mirrors Mon Power's purchase of the Harrison power plant from another FirstEnergy subsidiary three years ago. When Mon Power requested Public Service Commission approval for that deal in 2012, many of the parties to the case argued that it should be required to put out a competitive bid for additional capacity rather than being allowed simply to purchase another coal plant from its corporate affiliate.
Advocates for the open-bid approach argued that competitive bidding would turn up options that would be less expensive than what Mon Power proposed to pay for Harrison, which is in the northern part of the state near Morgantown. Mon Power refused to play along, though, arguing that its tack was the best one for everybody, and the Public Service Commission gave Mon Power the green light to buy the Harrison plant. That transaction has since cost customers more than $160 million relative to what they would have otherwise paid for electricity (see our September report, "Reregulating Coal Plants in West Virginia: A Boon to FirstEnergy, a Burden to Ratepayers").
Mon Power is once again resisting calls for it to put out a request for proposals, signaling instead that it hopes to move forward with its plan to purchase Pleasants.
However, in order to justify why it needs to purchase Pleasants from its affiliate without putting out a competitive bid for capacity, Mon Power has stumbled into contradicting itself before the West Virginia Public Service Commission.
In a settlement Mon Power entered into three years ago when it purchased the Harrison plant, it agreed specficially to the following:
If the Companies determine in any annual PJM Base Residual Auction ("BRA") that their combined capacity obligations for the delivery year covered by the BRA ("Delivery Year") exceed the Companies' owned or contracted-for capacity resources for the Delivery Year by 100 MW or more ("Capacity Shortfall"), then not later than the end of the calendar year following the BRA, the Companies will develop an RFP for capacity resources to address the Capacity Shortfall …
What this means in plain English is that if, under the rules of PJM's capacity market, which sets capacity obligations for utilities three years into the future, Mon Power has a projected capacity shortfall of at least 100 MW by the 2019/2020 capacity year, it must issue a request for proposals and solicit competitive bids for its next capacity addition.
In December of 2015, Mon Power—in order to lay the groundwork for the purchase of the Pleasants plant—filed a long-term planning document with the West Virginia Public Service Commission in which it forecast a capacity shortfall of over 700 MW by 2020 and said the shortfall would increase to more than 850 MW by 2027.
This document is the trigger on the settlement provision that requires Mon Power to do a competitive solicitation for capacity.
It is why staff at the Public Service Commission as well as at the commission's Consumer Advocate Division initiated a case requesting the commission to require Mon Power to issue a public request for proposals for new capacity. Mon Power objected to the request and—rather than acknowledging its shortfall forecast—cited instead the most recent PJM capacity market results, which indicate it has no capacity shortfall at all though 2020. The Public Service Commission in October sided with Mon Power.
Now Mon Power finds itself in a curious spot.
How will it argue the need to add to its capacity by purchasing the Pleasants plant when it has just won a case at the Public Service Commission by arguing that it does not have a capacity shortfall?
RELATED POSTS:
IEEFA Ohio: FirstEnergy's Bailout Plan Is Paying Off (for FirstEnergy)
IEEFA Report: A Cynical Re-Regulation Strategy in West Virginia
FirstEnergy's Machinations Around
IEEFA Update: FirstEnergy Brings Its Bailout Show Back to West Virginia