The 15.5 percent drop in China's production year on year in May and the cumulative 8.7 percent year-over-year decline since January has deep ramifications for the global coal industry.
China produces and consumes half the world's coal, and its production declines so far this year are double what they were over 2015.
The drop comes as the rate of transformation of China's electricity sector continues to accelerate. Electricity demand has decoupled from economic activity, and China is diversifying away from coal faster than anyone expected.
It is well past "peak coal."
China's National Bureau of Statistics reports that while industrial production from January through May was up 5.9 percent, electricity demand rose only 0.9 percent—indicating that the decoupling of electricity demand from economic activity that began in 2014 is continuing.
Thermal power generation was down 3.6 percent, a trend that, with stagnant electricity demand, shows that China continues to use much less coal-fired power. Coal-fired power generation is losing market share rapidly to hydro electricity (+16.7% yoy YTD), gas (+5.2% yoy YTD), nuclear, wind and solar generation (up a collective 20.3% yoy YTD).
China's Electricity Consumption by fuel source (January-to-May 2016)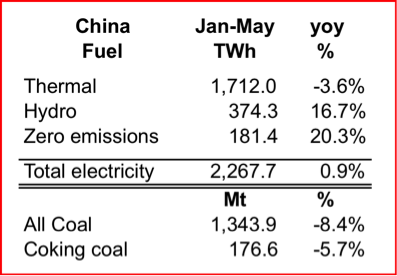 Source: China's National Bureau of Statistics
China's rates of decline in production and consumption have gained momentum since 2013 (down 3 percent annually in both 2014 and 2015).
Platts reports additionally that net thermal coal imports are down 17% yoy through April, and down 18.8% yoy in the month of April 2016. By contrast, coking coal imports have started 2016 strongly, reflecting a 1 percent increase in China's steel production yoy to May.
China's Manufacturing Purchasing Managers Index (PMI) remains stagnant at 50.1 in May 2016, while the Non-Manufacturing PMI of 53.1 is showing stronger service-sector activity, showing how the decoupling of electricity demand is in part a reflection of strong activity in less energy-intensive sectors.
China's Non-Manufacturing PMI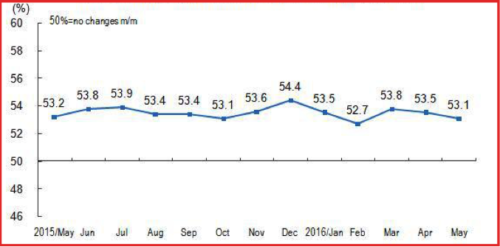 Source: China's National Bureau of Statistics http://www.stats.gov.cn/english/
And just to round out the energy-sector transformation, year-to-May electric vehicle sales are up 99% yoy to 219,000. China looks to be well on its way to reaching a million new electric vehicle sales annually by next year.

Tim Buckley is IEEFA's director of energy finance studies, Australasia
Related posts:
IEEFA Data Bite: Global Solar Deployment Accelerates
Mounting Risks of Impairments Globally in Coal Investments
A Top Industry Advisor, Long Singing the Coal-Export Anthem, Follows a New Tune