Combined-cycle plants would be forced to retire well before end of operating life to meet 2050 net-zero goal
January 26, 2021 (IEEFA) — A pair of integrated resource plans (IRPs) for Duke Energy's two North Carolina utilities rely heavily on the construction of gas-fired power plants that would have to be retired long before the end of their life span, according to a new report by the Institute for Energy Economics and Financial Analysis.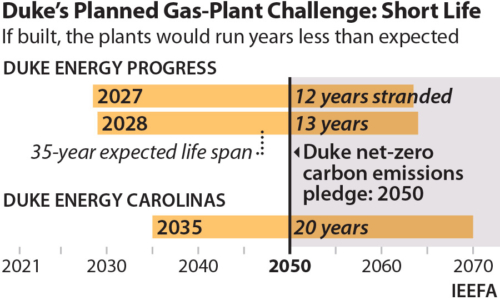 The report, the first in a series examining Duke's proposals, finds that building new plants that would come online in the late 2020s and 2030s would result in significant and unjustified costs for ratepayers—costs that regulators should force the company and its shareholders to cover. Plants typically have a life span of 35 years; a gas-fired Duke plant brought into service in 2028 would have a much shorter life if the Charlotte, N.C.-based company meets its self-imposed 2050 deadline for net-zero emissions.
"Duke has explicitly stated through its net-zero pledge that this capacity will be stranded as of 2050," said Dennis Wamsted, an IEEFA energy analyst and author of the report. "As such, ratepayers should only be liable for their share of the plants until that time."
Duke also has failed to explain how it plans to supply any new plants with gas, saying simply that it "assumes" supplies will be available. Given that Duke and Dominion Resources scrapped plans to build the 600-mile Atlantic Coast Pipeline after a series of legal, political and financial challenges made it impractical to continue, this is a questionable assumption. Pipeline developers also are likely to face increased challenges securing project financing, particularly in light of the new administration's climate change concerns.
IEEFA series: Key Shortcomings in Duke's North Carolina IRPs, An Issue-By-Issue Analysis
Part 4 – Ignoring cost savings from renewables
Part 3 – Overlooking battery storage
Part 2 – Overstating electricity demand growth
Part 1 – Over-relying on gas-fired generation
Author contact
Dennis Wamsted ([email protected]) is an IEEFA analyst/editor.
Media contact
Vivienne Heston ([email protected]) +1 (914) 439-8921.
About IEEFA
The Institute for Energy Economics and Financial Analysis (IEEFA) examines issues related to energy markets, trends and policies. The Institute's mission is to accelerate the transition to a diverse, sustainable and profitable energy economy.