Structural Changes in Global Seaborne Thermal Markets Make for Long Odds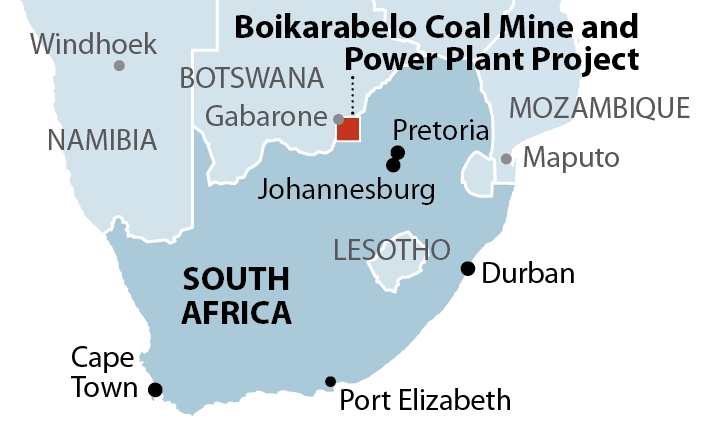 A proposal to develop a new, export thermal coal mine in Limpopo province, South Africa, faces too many headwinds to ever achieve long-term success.
Resource Generation (ResGen), a company that is publicly listed in Australia and South Africa, plans to mine coal mostly for exports markets from its Boikarabelo project. The company also says it hopes to use it to supply coal to the financially distressed, state-owned utility Eskom and has plans as well to build a coal-fired power plant as an independent power producer (IPP).
All three elements of this project are vulnerable to structural changes fast sweeping through global electricity markets.
As such it is no surprise that ResGen has been struggling to secure finance for Boikarabelo. The project's original lending consortium, in negotiation with ResGen for two years, pulled out of the project in 2017 because an offtake agreement with Eskom for 40 percent of the mine's output could not be reached. Subsidized funding from Australia's export credit agency, Efic, is now said to be off the table.
Potential funders would do well to walk away now.
That leaves the company negotiating now with a new consortium in hopes of reaching financial close this quarter. But that will get ResGen only part way to where it needs to be: the talks do not cover funding for a required rail link or for ramp-up costs after the mine is commissioned.
While it attempts to secure financing, ResGen is relying on a continuing working capital facility from one of its major shareholders, Noble Resources, with which it also has a coal offtake agreement. This does little to brighten the projects outlook, however, given Noble Group's own current financial crisis.
Noble, once Asia's largest commodity trader, is attempting to restructure and downsize to survive, a process now complicated by lawsuits. The company's market value has dropped 98 percent in the last two years to less than US$94 million, and it has defaulted on its 2018 bonds. Management have conceded that bondholders could force Noble into liquidation.
RESGEN'S EFFORTS TO ADVANCE BOIKARABELO COME AS MINING MAJORS are moving out of thermal coal globally. Rio Tinto sold the last of its thermal coal operations in 2017 and has since exited coal completely with the recent sale of its Queensland coking coal mines. BHP retains only its Mt Arthur thermal coal mine in Australia and is focused on coking coal.
Meanwhile in South Africa, mining and metals company South32 intends to spin off its thermal coal mines this year. Of the majors, only Glencore is a buyer of thermal coal operations. Last year it purchased 49 percent of Hunter Valley Operations in Australia, part of the deal that saw Rio exit thermal coal. Glencore is also reportedly considering repurchasing the Optimum coal mine in South Africa.
Importantly, these moves by Glencore are on existing operations rather than new, greenfield projects. Glencore has a major greenfield thermal coal project in Australia at Wandoan, but has the project on hold, having stated that "adding significant new tonnes to the market at this time could adversely impact the profitability of existing thermal coal production."
The view of the major miners appears rooted in the recognition that thermal coal's prospects have peaked. ResGen's plans are directly contradictory to this reality.
A look at the future of seaborne thermal coal export markets may help explain the major mining company's skeptical attitudes toward thermal coal. The industry is especially vulnerable in South Africa, where exporters are heavily reliant on just one country.
In 2017, 47 percent of coal exported out of Richard's Bay Coal Terminal went to India, a country whose government has consistently committed to ending thermal coal imports. India's coal ministry is driving a conversion from imported to domestic coal and is aggressively promoting efficiency improvements to increase domestic supply. Furthermore, the introduction of commercial mining in India could, on its own, replace as much as 50 percent of imports, and new Indian renewables tariffs are running at half the cost of imported coal power.
So the South African coal industry looks now to Pakistan, which is building a number of Chinese-financed import coal plants along its coast.
However, the degree to which Pakistan can replace lost demand from India is highly questionable. Imported coal faces competition from liquid natural gas imports and domestically produced coal in Pakistan. And going forward, competition from renewables will only accelerate. Already solar is close to beating grid parity.
Pakistani coal-fired power plants will most likely suffer a similar fate as those in India, where lower-than-expected-demand growth and the rise of renewables has driven down coal power utilization rates and destroyed their financial viability. Indian import-coal-based plants are also being heavily affected by the extra expense of imported coal.
IT'S ALSO A BAD TIME TO TRY TO STRIKE AN OFFTAKE AGREEMENT WITH ESKOM, given its much-publicized woes. It is of note here that Anglo American recently completed the sale of its Eskom-tied coal mines and that Eskom reports that it has more than 5 gigawatts of excess coal-fired capacity—and that's even before it completes its build-out of new plants. Existing capacity will be further squeezed by renewables now that South Africa's renewable energy program is being revitalized.
In short, more coal-fired power projects in South Africa make less and less sense.
With the future of South African coal exports so clouded, Eskom in dire financial straits, and renewables undermining the economics of coal-fired power plants, it seems the time for ResGen to make its move on Boikarabelo project has passed.
Rather than investing in this project, potential funders that are in talks with ResGen would do well to walk away and add Boikarabelo to the growing global list of stranded coal assets.
Simon Nicholas is an IEEFA energy finance analyst.

RELATED ITEMS:
IEEFA Guest Commentary: The Sensible Path Forward for South Africa's Eskom
IEEFA Report: Winners and Losers Among Big Utilities as Renewables Disrupt Markets Across Asia, Europe, the U.S., and Africa
IEEFA Update: A Growing Sense Across Energy Markets, and Among Market Players, That Change Is Gaining Pace