Executive Summary
As Peabody Energy ceases production this month at the Kayenta Mine complex in northern Arizona, the company is abandoning its long-time workforce even as it faces a vast amount of reclamation responsibility in the area.
The photograph below—part of a series that appear in this report—suggests the scale of cleanup work that remains at the complex.
Image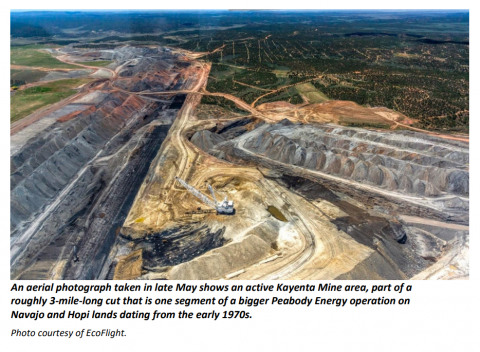 The company has filed a Worker Adjustment and Retraining notice with the state but has otherwise been quiet about its intention to lay off the remaining 295- workers on the payroll at the complex, which has been in operation since 1973. While such notification "protects workers, their families, and communities," according to guidelines published by the U.S. Department of Labor, little if anything is being done in response by government agencies at the federal, state or tribal levels. Peabody filed the notice on June 13 and will begin issuing pink slips on Aug. 12 on a timetable that will terminate all Kayenta employees by the end of the month, according to published reports. The mine complex is the sole supplier to the aging Navajo Power Station, which is being closed in December as the result of competitive market forces driven by cheap fracked gas and the rise of renewables.
The layoffs are occurring even though Kayenta miners have the very expertise and heavy-equipment skills needed for the required reclamation work, which will take years to complete and require a sizeable workforce.
Press release: IEEFA U.S.: Peabody abandons longtime Native American workforce before reclamation of Kayenta coal complex in Arizona
Please view full report PDF for references and sources.