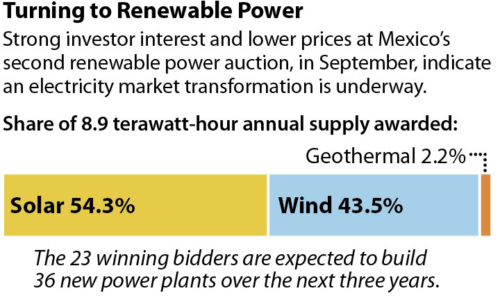 Twice in 2016 Mexico held two renewable power auctions that raised significant investor participation.
The most recent, in September, saw 23 winning bids out of a pool of 57 to build renewable projects worth $4 billion for 2,871 megawatts of new capacity. More important, the average price at the auctions was US$33.47 per megawatt hour, (MWh) 30 percent less than prices from a previous auction in March. In the September auction, 54 percent of the supply was awarded to solar projects and 43 percent to wind farms.
The March auction drew 69 prequalified bidders and awarded 18 projects with a total of 1,691 megawatts for solar and 394 for wind. The a average contract price was $47.60/MWh with the lowest bid for solar coming in at $35.50/MWh.
One reason such auctions are attracting enormous interest is because Mexico's energy reform mechanisms are driving investor appetite. Mexico began a series of reforms aimed primarily at increasing private investment in the country's oil and gas and power-generation sectors. Some of those reforms streamlined and simplified the permitting process for new projects and created a wholesale electricity market, which allows large industrial customers to purchase electricity directly from wholesalers.
Under the 2013 initiative, more than half of the 120 gigawatts of new power-generation capacity expected to be installed by 2040 will be renewables-based, halving the electricity sector's emissions intensity while materially lowering real electricity prices. Targets written into law now mandate that 35 percent be sourced from clean energy by 2024, effectively doubling the renewable energy's current market share.
Mexico's plan also produces an absolute decline in power-sector emissions in line with the country's 2012 Climate Change Act, the 2015 Energy Transition Act and Mexico's commitment at the Paris Climate Change Conference (COP21). Mexico now  has mandatory greenhouse gas emission reduction targets in local and international frameworks.  As part of its plan to meet its commitments, Mexico is making it obligatory for big energy consumers that directly buy energy in the country's new centralized power market to show that they consume at least 5 percent of their electricity from clean energy sources.
THE MEXICAN GOVERNMENT'S CLEAR COMMITMENT IN TRANSFORMING THE ENERGY SECTOR HAS MADE THIS MARKET ON EOF THE GLOBAL HOT SPOTS IN renewable energy. But there are other factors at work as well.
Mexico is in the emerging-market Sun Belt, so it has rich solar resources. Daily solar radiation varies from1,600 to –2,250 kWh/m² per year, which is comparable to some of the other best locations in the world, including in the Middle East and North Africa

 

(MENA) and across Chile.

Access to international, low-cost financing in U.S.-dollar-denominated contracts and the very large project sizes (the average is 150 megawatts, the largest is the 427MW Enel project) are keeping costs down.

Mexican wind and solar power have already achieved grid parity with traditional fuel sources, mostly because electricity prices historically have been very high. It has done so without feed-in tariffs, tax credits or other subsidies.
These underpublicized auction results stand as a powerful market example of what can happen when an emerging economy is committed to clean energy.
Tim Buckley is IEEFA's director of energy finance studies, Australasia.
RELATED POSTS:
IEEFA Update: Renewable Energy, Gone Mainstream, Is a Rising Tide
IEEFA Update: In Emerging Economies, New Forms of Renewable-Energy Financing Are Taking Root
IEEFA Latin America: Indications of How Emerging Markets Are 'Skipping a Generation' and Going Straight to Renewables