U.S. coal production so far this year is running more than 30 percent below the comparable period in 2015, reflecting an historic shift in both the coal industry and the electric power sector it serves.
And weekly production estimates from the Energy Information Administration show that the decline has accelerated recently.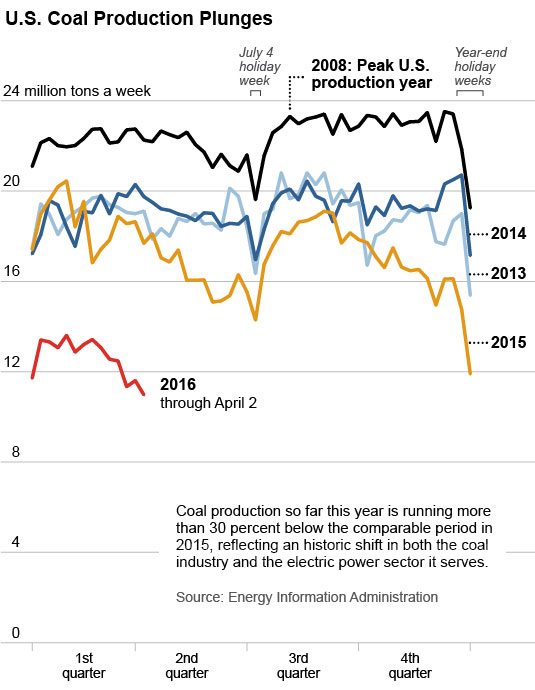 The U.S. coal industry produced 11 million tons of coal in the seven days ended April 2— 38 percent less than in the comparable week in 2015, and only half the amount mined in the comparable week in 2008, the year of peak U.S. output. It is most likely among the lowest weekly output figures in decades.
The pressures on production aren't likely to end soon. In addition to the ongoing impact of low prices, bankruptcies and mine closures, year-end coal stockpiles at electric plants were the highest in 25 years, according to the Energy Information Administration, as the warmest winter on record for the U.S. was leading to lower than normal electric demand.
On top of all that, U.S. coal exports fell 23 percent in 2015, the third consecutive year of declines.
Seth Feaster is an IEEFA energy-data analyst.
Related posts:
The Shrinking U.S. Coal-Fired Electricity Map; Here's a Snapshot From Ohio

U.S. Coal Subsidies Are Bigger Than Anyone Knew