Red Flags in a Global Downturn, a Struggling Coal Producer and a State Guarantee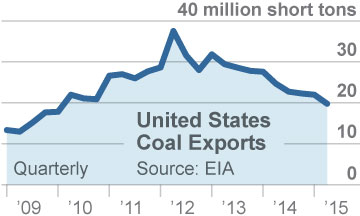 We're presenting testimony to the Oakland City Council today that questions the wisdom of a proposal to expand the Port of Oakland's coal-export capacity at the Oakland Army Base Redevelopment project.
The deal being considered raises several red flags.
First, the developer is taking a major financial risk by relying so much on coal in its planned commodity-export mix. Such overreliance would jeopardize what otherwise stands to be a successful publicly-funded project. We note in our testimony that a global consensus among investment banks is that global coal markets are in a state of collapse and that there is little likelihood of a turnaround in the foreseeable future. We note also that market trends worldwide do not bode well for coal. That means the project as currently modeled has a high likelihood of default.
Second, Bowie Resources, the coal company associated with this project, is a weak financial partner. In addition to being subject to the ongoing global downturn in coal markets, the company is under extreme pressure in its domestic coal business as U.S. electricity generators rely less and less on coal. Like most U.S. coal producers, it is pursuing unrealistic plans now to export coal out of West Coast ports to Asia.
Third, the State of Utah's pledge of financial assistance for the project serves to underscore the lack of private financial investment in the coal industry today, and the developer itself has missed a deadline to deliver a promised $200 million investment in the Oakland project.
Frankly, coal is an unnecessarily risky investment for Oakland and will not yield the activity predicted by the developer behind this proposed port expansion (California Capital & Investment Group).
Thermal global coal markets are in a state of collapse, the U.S. coal industry is in free-fall, foreign demand for imported coal is declining—especially in China and India—and coal prices are at historic lows.
Coal is not part of the commodity-export mix that has helped the Port of Oakland thrive, it will not be a boon to the port, and there is no sensible place for it in any port-expansion project. Indeed, a project commitment to coal would work only to undermine the financial viability of the expansion.
The risks associated with what Bowie Resources and its allies have in mind for Oakland are not worth it.
Tom Sanzillo is IEEFA's director of finance.