Parliament Can Enact Mandate for Norges Bank to Proceed; 'The Opportunity Is Enormous … the Risk Is Manageable'; Five Recommendations on Going Forward
FEB. 22, 2017 (IEEFA.org) — A report published today by the Institute for Energy Economics and Financial Analysis today shows how the US$880 billion Norwegian Government Pension Fund Global (GPFG) can invest productively in unlisted infrastructure assets including renewable energy.
The IEEFA report—"Making the Case for Norwegian Sovereign Wealth Fund Investment in Renewable Energy Infrastructure"— describes how markets in renewable energy infrastructure are growing rapidly, returns are reliable, and the outlook for the sector is strong.
The Norwegian parliament will consider granting a mandate for GPFG to invest accordingly this June.
The report includes five recommendations:
Creating an investment mandate requiring managers to invest 5 percent of the fund's assets in unlisted infrastructure, including renewable energy investments.
Expanding GPFG specialized in-house professional staff resources, with a focus on developing a team comparable in quality to those at other top institutional investors.
Establishing partnerships with established investment funds that have a track record in the unlisted infrastructure field, and co-invest with those funds under mutually beneficial arrangements.
Setting aside a portion of the Fund's infrastructure funds for listed utility companies that have significant and promising portfolios in renewable energy.
Putting a firm and prudent commitment in place to invest in infrastructure projects in emerging markets.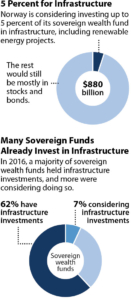 "The opportunity in infrastructure investment is enormous," said Tom Sanzillo, IEEFA's Director of Finance and lead author of the report. "The risk is manageable."
"The renewables sector is no longer the experimental space it was, having entered a long-term growth cycle with a strong outlook driven by low costs, competitive prices, policy advances and rapid uptake," Sanzillo added. "The sector is diversifying by adding wind and solar investments to long-held hydropower portfolios, and costs are falling rapidly, lowering the risk profile for investors. In contrast, fossil fuels are suffering from weak near term performance and an outlook clouded by uncertainty."
Sanzillo has 30 years of experience in public and private finance, including as a first deputy comptroller of New York State, where he oversaw a US$156 billion pension fund and US$200 billion in municipal bond programs.
The report explains how well-managed funds have developed robust methods to mitigate the risks of unlisted infrastructure investments.
"We see a wide spectrum of risk or return profiles in infrastructure investing to suit various institutional investors' appetites," Sanzillo said. "We recommend that risk be assessed on an asset-by-asset basis. The report shows how risk mitigation can be accomplished through a combination of in-house expertise, co-investment and strategic investment."
Among the key findings:
In 2016, 62 percent of sovereign wealth funds held infrastructure investments, and an additional 7 percent were considering doing so. Infrastructure is an established asset class embraced by many of the world's leading investment funds.
Renewable energy infrastructure accounts for roughly 42 percent of all unlisted infrastructure transactions and is becoming a distinct investment vehicle.
Well-managed infrastructure investments bring returns of 12 to 15 percent annually, with investments in renewable infrastructure producing steady, stable returns that exceed expectations.
Media contacts: Oslo, Joseph Zacune, [email protected], +44 771 5694 234
U.S., Karl Cates, [email protected], + 1 917.439.8225
---
About IEEFA: The Cleveland-based Institute for Energy Economics and Financial Analysis (IEEFA) conducts research and analyses on financial and economic issues related to energy and the environment. The Institute's mission is to accelerate the transition to a diverse, sustainable and profitable energy economy and to reduce dependence on coal and other non-renewable energy resources.