A Sensible 'Plan B' for Hinkley Point C Project in Somerset Would Avoid Extending Public Loan Guarantees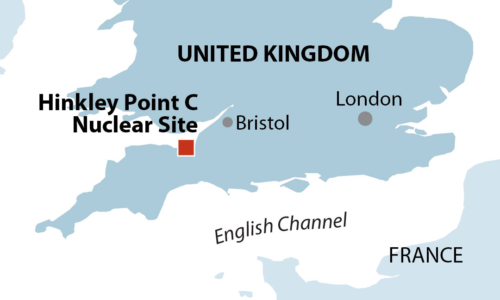 Oct. 16, 2017 (IEEFA.org) — A research brief published today by the Institute for Energy Economics and Financial Analysis cautions the U.K. government against investing further in an unfinished nuclear project on the Bristol Channel in southwest England.
The brief — "A Half-Built, High-Priced Nuclear White Elephant: How Should the U.K. Proceed With This Troubled Project?" — concludes that the Hinkley Point C plant, an over-budget and delayed 3,200 megawatt (MW) power project in Somerset, may never enter commercial operation.
Gerard Wynn, a London-based energy finance consultant and lead author of the brief, said problems surrounding the project reflect those affecting the nuclear electricity-generation industry broadly.
'The now-stumbling renaissance of nuclear power in Europe and the U.S. has been a story of delays and cost overruns.'
"The now-stumbling renaissance of nuclear power in Europe and the U.S. has been a story of delays and cost overruns, with a new generation of untested nuclear power designs proving much harder to build than anyone imagined and even the project developers admitting to high levels of risk," Wynn said.
"European Pressurized Reactors are untested, and those under construction have been more expensive and take longer to build than expected," Wynn said. "The history of recent nuclear projects makes it very likely, perhaps probable, that Hinkley will cost substantially more and take far longer to build than its advocates are claiming."
THE BRIEF DRAWS PARALLELS BETWEEN HINKLEY AND COSTLY NUCLEAR PROJECTS that have faltered elsewhere, most recently in the U.S.
"The similarities between Hinkley, which is now finally under construction after years of delay, and other troubled European and U.S. projects, particularly the recently shelved V.C. Summer plant in South Carolina, cannot be ignored," the brief says. "Perhaps the most important similarity is in the question of what the project ultimately will cost."
"Hinkley already is frequently described as the world's most expensive power plant, with EDF estimating that the project will require £19.6 billion to build by the time it enters commercial operation, currently set for 2025. But others see higher costs, and any delays would inevitably lead to an increase in total costs. For example, the U.K.'s National Audit Office (NAO), which advises on the use of public money, calculates that the public subsidy for the plant could top £30 billion, and says the government needs a Plan B."
Wynn noted that rising costs "were the leading factor in the decision by SCANA Corporation and Santee Cooper, the two South Carolina utilities building the Summer facility, to cancel that project. Costs there soared from an originally estimated $11.5 billion to upward of $25 billion by the time the utilities said they would abandon the two unit, 2,200-MW project."
Other parallels with struggling and failed projects in Europe and the U.S. include:
1. Untested technologies.
The 2.2 gigawatt (GW) Summer project was based on the new Westinghouse AP1000 nuclear plant design. Hinkley's 3.2 GW project will use Areva's European Pressurised Reactor (EPR). Neither has been tested on a commercial scale. Delayed EPR construction projects are still unfinished at the 1.6 GW Olkiluoto 3 power plant in Finland and at the 1.6 GW Flamanville in France. After the Summer cancellation, the sole remaining developer of the AP1000 design in the U.S. is Southern Company, which is building a two unit, 2.2 GW expansion at its existing Vogtle power plant in Georgia. Further EPR and AP1000 construction projects are under way in China.
2. Construction delays of five to nine years.
Areva's EPR reactor at Olkiluoto 3 broke ground in 2005 and was scheduled for completion in 2009; after multiple missed deadlines, it is now due online in 2019. The planned EPR reactor at Flamanville broke ground in 2007, for completion in 2012, and is now also scheduled to begin service in 2019, but that date may not hold. The two Vogtle AP1000 units in South Carolina broke ground in 2011 and were due for completion in 2016/17. The new date: 2021-2023 at the earliest.
3. Cost overruns ranging from 79 percent to 250 percent.
The expected cost of the Olkiluoto EPR has risen to €8.5 billion (2012 estimate) from €3.2 billion. The cost of the Flamanville EPR has soared to €10.5 billion (2015 estimate) from €3.3 billion, without accounting for the recent regulatory finding that the entire reactor cover must be replaced by 2024. Even though EDF has barely broken ground on the Hinkley plant, it has raised its cost estimate, as of July, to £19.6 billion from £18 billion. The estimated construction and financing cost of the Vogtle project is now above $25 billion, from the original $14 billion.
4. Delays and cost overruns are causing technology vendors extreme financial distress.
Finnish utility TVO and French state-owned Areva are mired in multibillion-euro litigation over responsibility for cost increases at Olkiluoto. Areva already has recorded a €3.9 billion impairment on Olkiluoto, forcing a €5 billion bailout by investors including the French state, and also forcing Areva's merger with French utility EDF. Westinghouse was liable for enough of the Vogtle and Summer cost increases to have to file for bankruptcy in March. That in turn triggered Toshiba, its corporate parent, to warn of a 1.01-trillion-yen loss this year.
5. Internal turmoil indicates misgivings among those closest to the projects.
At EDF, Finance Director Thomas Piquemal resigned last year over the decision to push ahead with Hinkley. Union members of the EDF board have warned that the Hinkley project threatens EDF's financial stability. In the U.S., a recently published audit of the abandoned South Carolina project revealed a 17% turnover in management and engineering staff during the audit period, which the auditor, Bechtel, described as "high for a typical nuclear project." Bechtel also described low morale among on-site workers.
Wynn said a prudent U.K. "Plan B" on Hinkley Point C would have two parts:
"First, it should act on its recently plans for an electric grid in the 2020s that will meet its carbon emissions targets in 2030. This 'Green Growth Plan' includes plans for renewables, interconnection, demand response, storage, electric vehicles and energy efficiency."
"Second, where possible, the government should avoid extending a loan guarantee to EDF, as allowed under the terms of its contract. If EDF exercised this option, the cost to the U.K. government of allowing the utility subsequently to walk away would rise dramatically, potentially boxing it into an expensive bailout."
Full report here: "A Half-Built, High-Priced Nuclear White Elephant: How Should the U.K. Proceed With This Troubled Project?"
Media contact: Karl Cates, [email protected], 917.439.8225
About IEEFA: The Cleveland-based Institute for Energy Economics and Financial Analysis (IEEFA) conducts research and analyses on financial and economic issues related to energy and the environment.

RELATED POSTS:
IEEFA Update: The U.S. Nuclear Project Cancellation Announcement Heard 'Round the World
IEEFA Update: Netherlands, in New Program to Close All Coal-Fired Generation by 2030, Sends European Energy Markets a Sharp Signal
IEEFA Europe: Technology Gains Help Drive a Rush From Capital Markets Into Offshore Wind