U.K. Auction Confirms New, Lower Pricing Trends in World's Biggest Markets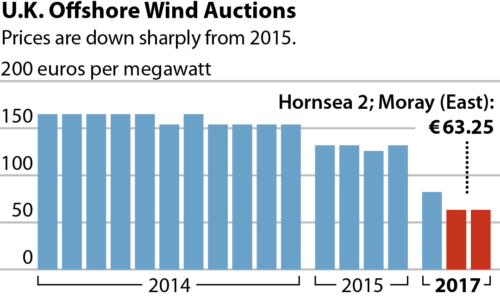 The U.K.'s latest auction of power purchase agreements for offshore-wind generation confirms an aggressive trend toward cost reductions across the industry and signals the arrival of a mature, bankable new segment of the energy sector.
The lowest successful bids in  auction results announced on Monday, €63 (US$83) megawatt hour (MWh), were 50 percent less than a corresponding UK auction in 2015 (see chart).
The U.K. results complement a German auction earlier this year, when the lowest bid was at the level of unsubsidized wholesale power prices, expected in the region of €40-60 ($53-$79) MWh when the projects are built in the early 2020s.
Monday's results were even lower than last year's auctions in Denmark and the Netherlands, when successful bids ranged from €48-72/MWh, and at the time showed a dramatic shift in the competitiveness of offshore wind power. Britain, Germany, Denmark and the Netherlands rank among the world's five biggest offshore wind markets, alongside China.
The U.K. auction results are especially significant because they include most of the cost of the offshore grid connection, costs that are excluded from corresponding power purchase agreements (PPAs) in Denmark, Germany and the Netherlands.
Falling costs reflect the scale economies of bigger turbines. They also indicate lower costs of capital, in a maturing industry with installed capacity now of more than 13 gigawatts in U.K. and surrounding waters, and especially in the shallows of the North Sea between Britain and Germany.
Offshore wind is attracting the same intense competition among developers and capital providers as in onshore wind and solar projects. Cost reductions seem likely to continue, given the appeal of what are now clearly secure, long-term investments for large institutional investors. Offshore wind is taking serious root in markets that include but are not limited to waters off China, Britain and in the North Sea and Baltic Sea.
The U.K., Denmark, the Netherlands and Germany are contracting new offshore wind farms through so-called reverse auctions in which developers compete by bidding for the lowest-priced PPA they deem bankable. Auctions do a better job of revealing the actual cost of offshore wind power compared with the administered prices of previous feed-in tariff schemes.
The U.K. bids for offshore-wind PPAs, at Hornsea Project 2 and Moray Offshore Windfarm East, announced on Monday, contrast sharply with prices at the start of the decade, in 2010, when PPA auctions in the Netherlands and Denmark fetched €170/MWh (Gemini Wind Farm) and €137 (Anholt Offshore Wind Farm) respectively.
In the U.K., new offshore wind power is now dramatically undercutting new nuclear generation. The Monday auction result, at £57.50/MWh, is particularly striking compared with the £92.50 (2012 prices, for 35 years, index-linked) power purchase agreement that EDF secured for a new 3.2 gigawatt nuclear power plant (Hinkley Point C) in southwest England.
The offshore wind projects agreed to this week  are due for completion in 2022-23, while Hinkley Point C, given the final go-ahead last year after winning planning consent in 2013, is due to complete in 2025, highlighting the construction-time advantage in offshore wind.
The large price differential between these projects highlights which technology investors view as having higher cost and risk.
Gerard Wynn is an IEEFA energy finance consultant.
RELATED POSTS:
IEEFA Report: Renewable Energy Opportunity Now for Norway's $976 Billion Pension Fund as Global Institutional Capital Migrates Out of Fossil Fuels
IEEFA Europe: The Carbon-Capture Dream Is Dying
IEEFA Europe: In Announcing Coal Plant Closures, Enel, Biggest Utility in the EU, Signals Industry Compliance With New Emission Rules