It's an (expensive) sorry tale when companies ignore shareholders and continue to invest in fossil fuels
22 July 2021 (IEEFA Australia): In failing to realise its early green ambition AGL Energy, one of Australia's biggest electricity generators and retailers wiped over 70% off its market value in just four years, destroying A$12 billion in shareholder wealth, finds a new report by the Institute for Energy Economics and Financial Analysis (IEEFA).
Author of the report analyst Trista Rose says the Australian stock market experienced one of its biggest bull runs in history over the last 18 months with the S&P/ASX 200 up nearly 50%, yet AGL lost 55% in same period.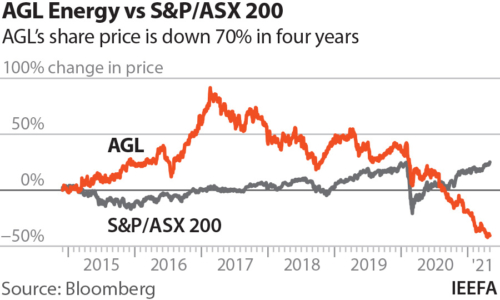 "Four years ago AGL was a A$18 billion dollar company – now it's a shadow of its former self at just A$5 billion," says Rose. "This year alone, AGL continued its dramatic downturn, posting a staggering A$2.7 billion loss.
"AGL's thundering fall follows a decade of flawed, short-term cash-driven decisions where, instead of investing into its early renewable energy ambition, they ploughed money into buying more and more coal plants, and in giving fat dividends and renumeration.
"Those coal power assets have given AGL the dubious title of being Australia's largest carbon polluter, emitting more than twice that of second-ranked EnergyAustralia.
AGL's coal power assets have given it the dubious title of being Australia's largest carbon polluter
"The company provides very strong lessons into what can happen if an energy utility bows to political pressure while seeking short term fossil fuel gain, ignoring global financial and climate risks and the impending global energy transition."
IEEFA notes similar energy companies such as NextEra and Ørsted that shared AGL's decade-old green ambition of pivoting early into renewable energy investment, gaining by the learnings in doing and driving decarbonisation, and as a result have seen its share prices accelerating skywards.
"Transition is possible and AGL could have been one of those players," says Rose, "yet today its percentage investment into renewable energy has completely flatlined – sitting at 10% for a few years.
"Instead of realising the ambition of becoming Australia's renewable energy leader, they've gone backwards."
Rose suggests AGL's short term greed hasn't helped the company or its shareholders, with AGL's shares collapsing in the last 4 years.
"If they'd ploughed their operating earnings into renewable energy rather than ageing soon-to-be stranded coal assets, they'd be in a much better spot," says Rose.
AGL's short term greed hasn't helped the company or its shareholders
"The big lesson here is for shareholders. Carbon intensive companies expanding exposure to thermal generating assets aren't going to pay you back – they will continue to waste the operating cash generated while they ignore the energy transition and impending climate risk."
Rose questions whether AGL's Board and management have really understood the business they are in, the ongoing deflationary nature of renewables and particularly the pace of the global energy transition.
"AGL's green ambitions faded with the opportunistic purchase of a number of old and inflexible coal-fired power stations from 2012 onwards seemingly as a means to provide quick cash to shareholders," says Rose.
"Today, AGL is an example of a company that has bent over to political pressure to keep one of its coal-fired assets open well past its use-by date, has failed to adequately represent to shareholders the financial and climate costs of further investing in coal-fired power while also under-estimating the cost of the rehabilitation of those assets.
AGL is an example of a company that has bent over to political pressure
"It's current provision of ~$350m per site still appears grossly inadequate, posing the risk of environmental damage at each site and if AGL fails, leaving the risk with community and taxpayers to pay the bill.
"The tidal wave of new wind and solar developments, particularly rooftop solar, have displaced AGL's priority in coal while increasingly placing downward pressure on wholesale electricity prices, impacting AGL's bottom line and dramatically exposing the company's lack of ambition to align with the Paris Agreement.
"The company's long term business strategy went askew in the last five years, making it highly sensitive to the global energy transition, and today, it represents massive failure, a position no other company or shareholder would want to find itself in."
Read the report: AGL Energy's Path of Shareholder Value (and Environmental) Destruction – How Australia's Biggest Polluter Destroyed $12 billion in Shareholder Value
Media contact: Kate Finlayson ([email protected]) +61 418 254 237
Author contact: Trista Rose ([email protected])
About IEEFA: The Institute for Energy Economics and Financial Analysis (IEEFA) examines issues related to energy markets, trends, and policies. The Institute's mission is to accelerate the transition to a diverse, sustainable and profitable energy economy. (www.ieefa.org)