November 18, 2021 (IEEFA) – A recent decision to cancel the 1,000-megawatt Beech Hollow combined gas plant in Pennsylvania is the latest warning for investors considering funding new gas-fired power plants in the PJM Interconnection (PJM) region. According to a briefing note by the Institute for Energy Economics and Financial Analysis (IEEFA), the reason is clear: The economics have changed, prompting three project cancellations this year and calling into question the future of 14 others.
"Low gas prices and high-capacity payments that helped drive a near-doubling of installed combined cycle gas capacity in the last decade have gone away," said Dennis Wamsted, IEEFA energy analyst and the briefing note's lead author.
Investors are facing myriad challenges, including:
Significant uncertainty about future capacity prices, particularly in light of the sharp drop in the region's latest power auction.

A decade-long downward trend in power prices.

Flat regional demand growth.

Major projected increases in battery storage and renewable energy generation, including thousands of megawatts from offshore wind capacity.

Financial market concerns about climate change and the likelihood of required fossil fuel plant closures by 2050. 
IEEFA has identified 17 projects that remain undeveloped, three of which have officially been cancelled this year. More are likely to follow.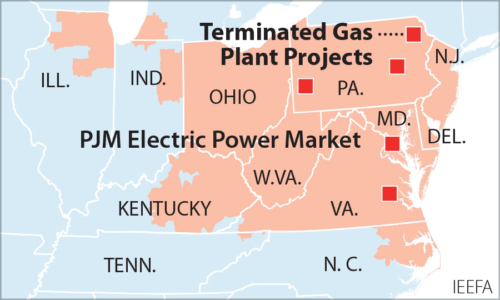 PJM, which serves 65 million customers in 13 states and the District of Columbia, uses an annual capacity auction to secure energy and reserves for the system three years into the future. Generators that clear the auction earn a capacity payment, measured in dollars per megawatt-day. 
"This structure helped drive a boom in gas plant development, but the gold rush is coming to an end," said Wamsted. "The increase in gas-fired capacity has levelled off over the last two years, and once the last batch of plants currently under construction are completed, there is significant uncertainty regarding the commercial viability of the projects remaining in the PJM development pipeline."
Renewables and battery storage will be a particular challenge for the region's planned gas plants. A record 1,512 megawatts (MW) of solar capacity cleared the last PJM auction, an increase of 942MW over the previous year. The amount of wind power also rose to 1,728MW. There also are thousands of megawatts of offshore wind capacity being developed and expected online before 2030. 
While still a small portion of the region's 150,000MW overall capacity, the growth highlights the growing cost-competitiveness of renewable resources and points to the trend that will define the 2020s. 
"The future for planned gas-fired power plants appears bleak as the investment market leaves them behind and turns to cleaner, lower cost renewable options," said Wamsted.
Briefing Note: Rapidly Changing Investment Climate Challenges Planned PJM Gas Plants
Author Contacts
Dennis Wamsted ([email protected]) is an IEEFA energy analyst.
Media Contact
Muhamed Sulejmanagic ([email protected])
About IEEFA: The Institute for Energy Economics and Financial Analysis (IEEFA) examines issues related to energy markets, trends and policies. IEEFA's mission is to accelerate the transition to a diverse, sustainable and profitable energy economy.