11 November 2020 (IEEFA India): A new IEEFA report identifies the opportunity for the Adani Group to lead Indian energy strategy by further aligning itself with the government's vision for energy independence and fast-growing reliance on renewables.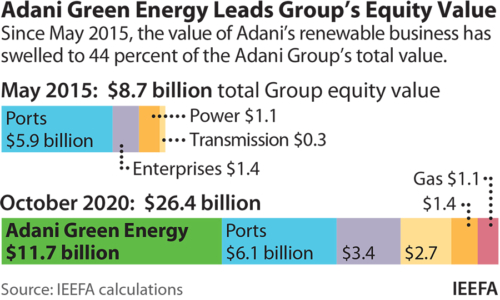 "The soaring value of Adani Green Energy is a clear indication of where the market, and this group, are heading," says Tim Buckley, director of Energy Finance Studies, South Asia, at the Institute for Energy Economics and Financial Analysis (IEEFA). 
"Adani Green is now the largest listed energy company in India and one of the world's biggest solar developers. Adani's new strategic collaboration with Italy's Snam to explore opportunities in green hydrogen is an exciting new development that suggests the group is scaling up its renewable ambitions even further."
A pledge to close coal plants as power purchase agreements (PPAs) expire would enhance the group's environmental, social and governance (ESG) ratings and ensure ongoing access to global capital to fund ambitious growth plans, according to the report's authors Buckley and Simon Nicholas, energy finance analyst at IEEFA.
Progressively phasing out coal power generation would be an economically rational strategic move for the Adani Group to make, says Buckley. It would also be fully aligned with the Indian government's intention to replace ageing coal plants with renewable energy.
"Adani Enterprises Ltd's 12 bids for coal deposits in the recent auctions indicate the lack of foreign investor interest in coal and the government's desire to reduce thermal coal imports and protect domestic investment and mining jobs.
"However India can maximise its self-reliance by progressively replacing older, inefficient coal-fired power plants with cheaper renewables.
"The massive ongoing renewable energy deflation will mean Adani's coal plants will be obsolete by the expiry of their PPAs.
"The value creation of Adani Green Energy and Adani Transmission, and the ongoing value destruction of Adani Power are perfect examples of this energy system disruption."
Adani Green Energy has seen a 2,400% rise since its 2018 IPO – remarkable, says Buckley, for a company that was in an embryonic stage only five years ago. Adani Green Energy's current market capitalisation of Rs.1.17 trillion (US$15.6bn) is 40% above that of India's largest thermal power generator NTPC, a company with 22 times as much capacity.
While committing to a phased move away from coal power would mark a major strategic pivot for the group, it would provide an opportunity to take a national leadership position and accelerate investment aligned with India's sustainable economic growth, says Buckley.
"Continued global capital access is a key facilitator of this accelerated investment."
Nicholas points out that companies such as Adani Green Energy and Adani Ports that are increasingly tapping into and leveraging global capital have to be particularly conscious of their ESG ratings.
With markets increasingly focused on ESG risk evaluation, there is much to gain from an orderly shift away from coal. And much to lose by continuing with business as usual.
"Banks, insurers, investors and leading global corporations like ANZ, Scottish Widows, NextEra Energy, Mitsui & Co and GE are increasingly distancing themselves from thermal coal. The growing number of coal exit announcements by major financial institutions make it more difficult to finance coal projects and add to the rapidly rising stranded asset risk," says Nicholas.
Adani Enterprises has been unable to attract private debt or equity investors into the highly controversial Carmichael thermal coal mine and rail proposal in Queensland, Australia.
October 2020 saw Adani Ports become directly involved in financing the Carmichael rail haulage works.
This poses a key risk for the wider Adani Group's ESG standing and access to global capital.
"The group's direct involvement in Carmichael is an ESG quagmire that is out of step with Indian energy strategy to reduce thermal coal imports," says Nicholas.
"A plan to phase out coal power and shift away from thermal coal imports would provide a pathway to address these growing ESG concerns. It would also allow the Adani Group to strategically rethink how best to minimise the exposure of Adani Ports and its other entities to financing risks as global financial institutions divest on grounds of climate risk.
"With thermal coal in a slow but clear terminal decline, now is the time for the Adani Group to make an exit plan."
Read the report: The Economic Case for Adani To Lead India's Domestic Energy Strategy
Media contact: Rosamond Hutt ([email protected]) +61 406 676 318
Author contact: Tim Buckley ([email protected]); Simon Nicholas ([email protected]) 
About IEEFA: The Institute for Energy Economics and Financial Analysis (IEEFA) examines issues related to energy markets, trends and policies. The Institute's mission is to accelerate the transition to a diverse, sustainable and profitable energy economy. www.ieefa.org