Low Natural Gas Prices and Increasingly Inexpensive Renewable Generation Technologies
The New Year has barely broken but headlines around the electricity-generation transition that is occurring across the U.S. already suggest a year for the record books.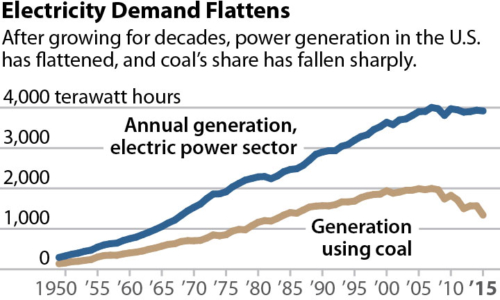 Indications are that coal-fired generation, specifically, will suffer significant additional setbacks as competition from natural gas and renewables continues to take away market share.
Publications specializing in energy-development and energy-finance markets are already onto several signals that point to less demand for coal-fired generation.
The Bond Buyer, for instance, reported this week on how PJM Interconnection, which manages the electricity grid in 14 states, is acknowledging a trend toward less demand. The article quotes some telling analysis by Fitch Ratings that includes this passage:
"'The long-term decline in electricity demand will likely be driven by conservation efforts, more efficient lighting technologies, increasing efficiency standards and growth in distributed generation, particularly rooftop solar," Fitch Ratings analyst Dennis Pidherny wrote in a Dec. 27 outlook. "Improvements in battery storage technology, expanded federal investment incentives and favorable net metering arrangements in some states, could push electric sales down even further."'
Less demand for generation creates lower energy market prices , all of which make it tougher for coal to compete as more readily available renewables and cheaper gas-fired capacity are added to the grid.
An analysis put out this week by SNL, the energy-industry trade publication, noted that market forces are driving less and less use of coal. A line of note from the analysis:
"That achievement is due, at least in part, to low natural gas prices and increasingly inexpensive renewable generation technologies."

Meanwhile, the U.S. Energy Information Administration (EIA) reports that more than half of the generation capacity added to the grid in 2016 was from solar and wind. Here's a ClimateWire/Scientific American article that summarizes the EIA data and that includes this passage of note:
"In contrast to the growth in renewable energy, EIA this week also reported that U.S. coal is expected to fall to its lowest level in nearly 40 years, at 743 million short tons. The vast majority of U.S. coal is burned to generate electricity."
We'll be delving more deeply in the near future into what's driving this transition.
David Schlissel is director of resource planning analysis for IEEFA.

RELATED POSTS:
IEEFA Update: Wind Is Blowing Away Fossil-Generated Power in Middle America
IEEFA Op-Ed: Coal Will Not Recover
IEEFA Update: Many Hurdles Facing U.S. Coal-Fired Power Fleet