Executive Summary
Engie is a global, Paris-based industrial company specialising in gas, electricity and energy services that was 24.1% owned by the French state as of Dec. 31, 2017. The company has correctly acknowledged a profound change underway in energy markets toward lowcarbon sources.
Companies have two broad choices in coal asset divestment: closing and decommissioning, or selling. Recently, Engie has preferred selling over closing. This briefing focuses on Engie's strategy along these lines in Germany, where the company is presently trying to sell three power plants: Farge, Wilhelmshaven and Zolling. Bidders reportedly include two privatelyowned, Czech-based investors: EPH and Seven Energy.
Image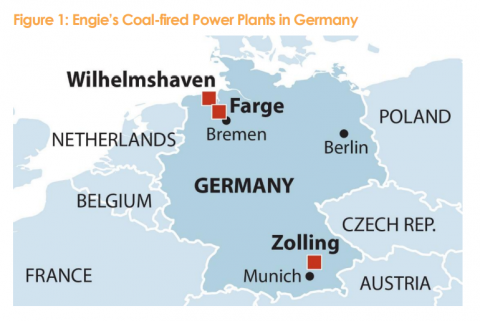 To underscore the problems facing coal, we use a simplified discounted cash flow (DCF) analysis of available and estimated data for sales and costs at Engie's newest of these three power plants (Wilhelmshaven), which it brought online in 2015. We find that the power plant has a negative present value as measured by EBITDA.
We consider the various outcomes for Engie, between sale and closure of the power plants:
Closure would avoid giving rivals a bigger market share in Germany relative to Engie. By contrast, if Engie closed its coal power plants and simultaneously invested in cleaner generation, it might boost its market positioning. Engie itself has noted this as an important motive for closing rather than selling its coal-fired power plants in Chile.
Closure would help achieve the company's stated goal to "build a low-carbon world." A sale, by contrast, would most likely be to Czech-based distressed asset specialists EPH and Seven Energy, both of which have publicly stated an ambition to run coal power plants for as long as possible, intent on maximising private profits by capitalising on public incentives for operating them.
Closure would allow Engie to engage with the German government's newly formed Coal Exit Committee, which is expected to present a positive economic framework for coal phaseout. By closing its power plants over time, Engie would be part of the solution towards this goal, rather than creating a problem by selling to private buyers. We note that EPH recently mounted a legal challenge to new European Union air pollution emissions limits, an indication of its attitude toward environmental regulation.
Sale would align with Engie's 2016-2018 divestment plan to reduce net debt associated with merchant assets, including coal power plants, but we note that Engie has already almost met these targets.
Sale might make the company's income statement look better to analysts and the market as a result of commonly used "big bath accounting" techniques that exclude large one-off cost items associated with disposals, while reaping the benefit of lower costs going forward.
We conclude that Engie should reconsider its plan to sell its German assets. We find that benefits from closing the power plants— living up to corporate responsibility standards, preventing rivals from gaining market share and embracing the Coal Exit Commission— outweigh the benefits of selling.
Please view full report PDF for references and sources.
Press release: IEEFA report: Benefits to Engie from closing three German coal-fired power plants would outweigh any gains from selling them