Renewable energy is set for a milestone year in 2024. The Energy Information Administration (EIA) projected in November that both gas- and coal-fired electricity generation will be driven downward next year by a significant increase in renewable energy production—despite an expected increase in overall electricity demand.
This would be a first, and is a clear harbinger of the rapid changes occurring across the U.S. electric sector.
For the coming year, EIA projects that renewable generation will top 1 trillion kilowatt-hours (kWh) for the first time and account for an estimated 24.4% of total U.S. electric sector generation—a 5% market share increase in just five years, even with the COVID-19 pandemic and massive supply chain disruptions that followed. EIA includes wind, utility-scale solar, hydro, geothermal and biomass in its renewable generation category.
Solar and wind are the drivers behind this transition.
The growth in generation since 2015 has been dramatic, even as wind turbine installations have slowed in the past couple of years. Power output from wind increased by 129%, climbing from 190.5 billion kWh in 2015 to a projected 437.3 billion kWh this year. Additional growth is coming, with EIA forecasting that wind generation will climb to 465 billion kWh in 2024.
The increase for solar has been even more dramatic. In 2015, utility-scale solar generation totaled just 24.5 billion kWh—much less than 1% of the national total. EIA expects solar output to hit 164.9 billion kWh this year, pushing solar's market share to 4%. EIA expects the rapid growth to continue, with utility-scale solar generation expected to top 230 billion kWh in 2024, an 838% rise in the past decade.
Solar's output during the third quarter of the year, traditionally the highest demand period across the U.S., is another clear indicator of its rapid growth. Here, solar's contribution to electric sector output has soared, climbing from just 0.6% in 2015 to 4.4% this year. And as the graphic below indicates, the growth is speeding up.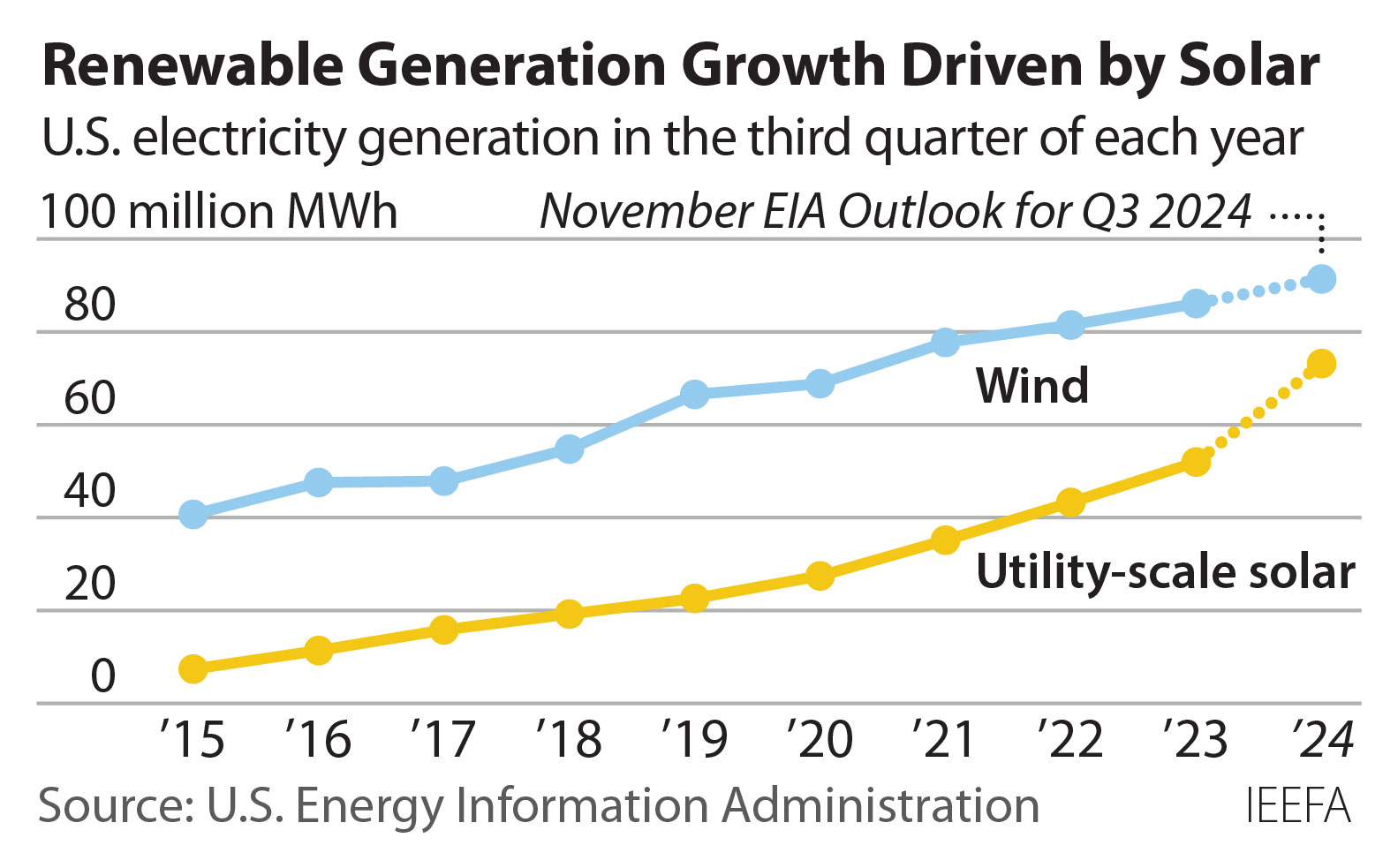 Nowhere is the growth speeding up more rapidly than in Texas. Installed utility-scale solar generation capacity in ERCOT, which serves roughly 90% of the state's overall demand, has now topped 18,000 megawatts (MW), pushing it ahead of long-time leader California for the No. 1 spot in the U.S. Much more solar is coming to Texas. Approximately 75 gigawatts (GW) of capacity are working their way through the grid operator's interconnection queue process with online dates of 2024 and 2025. Not all of this will be built, but even half would result in a tripling of the state's utility-scale solar capacity in just two years.
As we wrote here, that existing solar capacity played a crucial role in helping ERCOT meet record electricity demand through the summer. Output was reliably more than 10% when the system hit its peak demand in the late afternoon, topping that mark on 91 of the 93 days from June 15 through Sept. 15. On the 10 days when new record highs were recorded, solar generation topped 12% of demand during the peak hour.
Since Jan. 1, solar output has met 7.4% of ERCOT's electricity demand, a meteoric rise from 2016 (the first year it was independently tracked) when solar accounted for just 0.2% of systemwide demand. Generation through October is already more than 28 million megawatt-hours (MWh)—a 3,000-plus percentage increase from the 836,602 MWh generated in 2016.
The projected solar growth in the U.S. is even more notable since the EIA does not include small-scale solar (facilities that are less than 1 megawatt in capacity) in its generation numbers. But output from this sector, commonly called rooftop solar, also has been growing fast. The EIA first provided separate rooftop solar numbers in 2014, estimating output at 11.2 billion kWh. By the end of 2022, the figure had risen to 61.3 billion kWh, a 447% increase. The EIA expects the rapid growth to continue, projecting that rooftop solar will generate 85 billion kWh in 2024, a 38% increase in just one year.
The EIA's short-term outlook will not incorporate 2025 projections until January, but it is clear from other forecasts that significant additional renewable generation growth is coming in 2025 and later. Solar, in particular, is set for continued rapid expansion.
In their latest forecast, Wood Mackenzie and the Solar Energy Industries Association predict installed U.S. capacity will climb from 153 GW currently to 375 GW by end of 2028, with annual additions rising steadily from roughly 30 GW this year to more than 45 GW by the end of forecast period. Other forecasters are equally bullish; Morgan Stanley said earlier this year it expected annual U.S. solar installations to top 40 GW by 2030.
This has been a difficult year for the wind sector, with new capacity installations expected to fall to just 7.5 GW—a five-year low. But the latest forecast from the American Clean Power Association (also prepared in conjunction with Wood Mackenzie) expects a turnaround to begin in 2024, with annual installations topping 10 GW, and to continue climbing through 2028. Their forecast projects that 82.6 GW of new capacity, including repowering, will be installed during the next five years. They expect almost 12 GW of the new capacity to come from offshore wind.
Given the easing of the post-pandemic supply chain disruptions and the long-term extension of the solar, wind and battery storage incentives via the Inflation Reduction Act, 2024 is likely to be just the first of a string of record-setting years for renewable energy in the U.S.