We've published a report today that explains how the proposed coal-fired Rampal Power Plant in southwest Bangladesh would drive up electricity rates, cost far more than its promoters say, and put investors and consumers at a myriad of risks.
Our report, "Risky and Over-Subsidized: A Financial Analysis of the Rampal Power Plant," outlines why the project should be cancelled and why Bangladesh would do better to invest in solar energy.
We believe the Rampal project is fraught with unacceptable hazards and out of step with the times. It would set Bangladesh back.
The project's finances are made up largely of public subsidies channeled through intermediaries supported by the Bangladeshi and Indian governments, and our report notes that the true nature of the proposal has not been well publicized. We suspect the project is being promoted as a means to sell Indian coal to Bangladesh and as a way to skirt Indian policy against building a coal plant so near the Sundarbans, a protected forest and World Heritage Site.
OUR REPORT OUTLINES SEVERAL CORE FINANCIAL WEAKNESSES IN THE PROPOSAL. THEY INCLUDE:
Revenue requirements that would price Rampal electricity 32 percent higher than average current electricity prices in Bangladesh even with the proposed subsidies;
Public subsidies totaling more than $3 billion over the life of the project, including a 15-year income tax exemption from the Bangladesh government ($936 million), a well-below-market-rate loan by the Indian EXIM Bank ($988 million) and an open-ended maintenance-dredging commitment by the Bangladesh government ($26 million per year);
No acknowledgement of the high probability of construction delays,  soaring capital costs, and lower than anticipated plant load factors.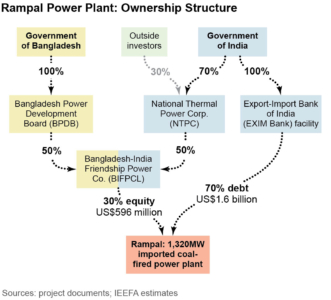 Our study also sees risks in community opposition to the project and doubts whether the project would perform as advertised. It describes how Rampal's reliance on imported coal would needlessly expose ratepayers to the vagaries of global coal and currency markets and how the project would be an environmental hazard. We question the chosen site for the plant in the official "wind risk zone" of Bangladesh and the seeming lack of a contingency management plan.
While the Rampal project would expose all project promoters and consumers to steep financial risks, it poses specific peril for the Indian EXIM Bank. The Rampal project would constitute a large chunk of EXIM Bank's loan book, it would put the EXIM Bank's international fund-raising capacity at risk, and it would create refinance risk for the EXIM Bank.
Rampal project backers and customers generally would be exposed as well to potential loss of government subsidies if the Bangladesh government decides to not long fully support electricity-system losses as it does no.
OUR RESEARCH INDICATES THAT SOLAR ENERGY DEVELOPMENT IS A VASTLY SUPERIOR CHOICE BECAUSE IT IS FASTER TO DEPLOY, POTENTIALLY MUCH CHEAPER, AND HAS PROBABILITIES ON ITS SIDE THAT INCLUDE:
The likelihood that Bangladesh can build quickly on the strength of its current national rooftop-solar expansion;
The likelihood that Bangladesh can harness domestic momentum around utility-scale solar to build energy security;
The likelihood that Bangladesh can leverage off and benefit immensely from India's expanding solar industry;
The likelihood that Bangladesh can gain enormously from a global solar-energy boom in which technology gains and investment trends are driving rapid expansion.
The likelihood that solar programs in Bangladesh can attract financial support from the Asian Development Bank, debt capital support from the Asian Infrastructure Investment Bank (AIIB) and/or the New Development (BRICS) Bank, investment from the growing global green bond market and equity investments from the World Bank Climate Investment Fund's Clean Technology Fund, the Green Climate Fund, and global electricity corporations like Softbank and SkyPower.
Bangladesh is entirely justified in seeking to diversify and grow its power generation capacity, but adding imported-coal-fired power capacity to it mix comes with far too high a cost and with far too much risk. And the Indian government would be better served promoting its credentials as a growing and integrated solar sector powerhouse; facilitating and accelerating the transition towards lower-emission sustainable economic growth across the region.
Tim Buckley is director of energy finance studies, Australasia, for IEEFA. Jai Sharda is an IEEFA energy consultant.

Full report here

RELATED POSTS:
IEEFA Data Bite: Global Solar Deployment Accelerates
Cancellation of 4 Ultra Mega Power Plants Underscores India's Commitment to Transition
Investment Bank Blindness to Risk in Fossil-Fuel Sector
ALSO:
and
Related statement of Professor Mahbubul Mokaddem Akash, Department of Economics, Dhaka University (Bangla translation here).