Executive Summary
The 240-megawatt Petra Nova carbon capture and storage project at Unit 8 of NRG Energy's W.A. Parish Generating Station near Houston is the only operational coal-fired power plant CCS facility in the U.S. As such, it is frequently cited by promoters of CCS retrofits at other coal-fired power projects as proof that the process works and that it is an economically viable option for cleaning up coal-fired generation.
Image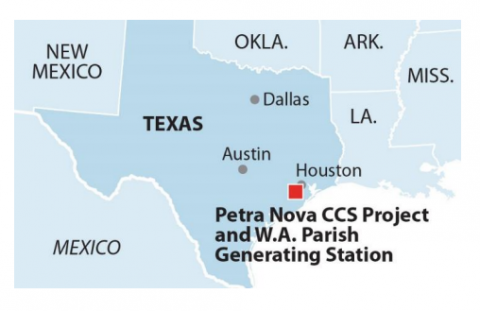 But there have long been serious questions about the performance at Petra Nova. These questions have only been heightened by NRG's official announcement in late July that it mothballed the carbon capture project in the spring due to falling oil prices. NRG's plans for the project remain uncertain, with the company only saying it could be brought back online "when economics improve."
The mothballing of Petra Nova highlights the deep financial risks facing other proposed U.S. coal-fired carbon capture projects, including Enchant Energy's plan for the San Juan Generating Station in New Mexico and Minnkota Power Cooperative's Tundra Project at the Milton R. Young Station in North Dakota.
NRG's decision to shutter Petra Nova also underscores the serious lack of transparency surrounding the plant and its operations. This lack of transparency is all the more worrisome given that the plant's alleged success is being used to support the development of other CCS projects. In truth, essential questions about its performance and feasibility have never been answered, an awkward fact that should give potential investors in similar projects serious pause.
Six questions persist:
Before it was mothballed, was Petra Nova really consistently capturing 90% of the carbon dioxide in the 240MW slipstream it was processing?
Why didn't the project capture as much CO2 as proponents had predicted?
What has it cost to capture a ton of CO2 at Petra Nova?
Has the captured CO2 actually boosted oil production at NRG's affiliated oil field?
Has the Petra Nova project been economic?
What does the mothballing of Petra Nova mean for the project's future financial viability?
Any investor considering taking a position in any future coal-fired CCS project will want these six questions fully answered. As it stands, coal-fired CCS has not been shown to be a financially viable proposition, making investments in planned coal-based CCS projects high risk, at best.
Please view full report PDF for references and sources.