The market window for coal-fired electricity in the U.S. is closing faster than ever in a shift that is especially clear as autumn sets in.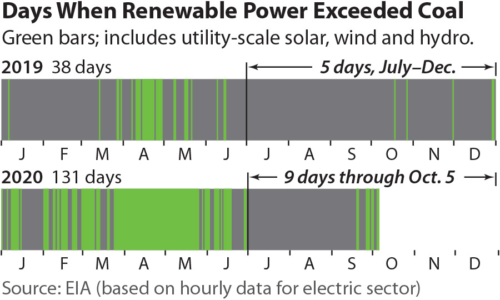 From July through Oct. 5, renewables (utility-scale solar, wind and hydropower) generated more electricity than coal in the U.S. on nine days—easily topping the total of five days recorded over the entire second half of 2019. Renewables have now generated more electricity than coal on 131 days in 2020—more than three times the 2019 results and with some 80 days left in the year.
What's more telling is the encroachment of renewable generation at both ends of the peak summer demand period. Last year, renewables didn't top coal's output until Oct. 19, well into the fall. This year, it happened on Sept. 19. Similarly, renewables only out-generated coal on three days in June 2019; this year, that happened 15 times, and as late as June 29.
THIS TRANSITION IS UNRELATED TO THE IMPACT OF THE CORONAVIRUS PANDEMIC. Rather, it can be traced directly to the steady buildout of solar and wind capacity being brought online nationwide, and to coal's inability to compete economically with renewables. The U.S. now has 108 gigawatts (GW) of installed wind capacity, a 10% increase from a year ago, and more than 40GW of utility-scale solar, up 25% from last year.
From June through end August, wind generation rose 21.7% while solar output climbed 22.5%.
All this new capacity has sharply increased renewable energy generation. From June through the end of August, total U.S. wind generation rose 21.7% while solar output climbed 22.5%. With overall generation remaining essentially unchanged during the summer—it fell 0.3% in 2020 from a year earlier—something had to give, and what gave was demand for coal-fired electric generation, which fell 7.6% this summer compared to 2019.
Coal's decline can be seen also in the daily summertime power markets, too, a development that further calls into question plans by some plant operators to run their plants seasonally. This summer, coal accounted for more than 25% of daily demand on only two days, and then just barely (25.1%). In contrast, coal topped the 25% level 16 times during 2019. Similarly, coal fell below 20% of daily demand only once in 2019, while it happened 23 times this summer. In short, the need for coal-fired power at both the daily and seasonal levels is fading fast.
COAL IS CLEARLY BECOMING THE MARGINAL GENERATION RESOURCE IN THE U.S.—a trend that is likely to accelerate over the next several years, given the significant amounts of new wind and solar capacity expected online. The American Wind Energy Association reports a record 25.3GW of wind capacity under construction and an additional 18.1GW in advanced development; the Solar Energy Industries Association sees the solar industry installing 100GW of new capacity from 2021 through 2025, 83GW of which will be utility-scale.
Utilities and independent power producers are fully aware of these trends, and it is no coincidence that the past few weeks have seen big companies such as Vistra, Ameren and Duke Energy making major announcements around new plans, or accelerating previous plans, for the collective retirement of more than a dozen coal plants across the U.S.
The data shows coal power's economic viability continuing to shrink, and IEEFA expects many more of these kinds of announcements to come.
Seth Feaster is an IEEFA data analyst.
Dennis Wamsted is an IEEFA energy analyst.
RELATED POSTS:
IEEFA U.S.: Georgia solar+hydro electricity output tops in-state coal generation during first half of 2020
IEEFA U.S.: Solar will push much of remaining Texas coal fleet offline
IEEFA update: Renewables surpass coal in U.S. power generation throughout the month of April 2020