Fresh data from the Energy Information Administration points to the monumental nature of the transition under way in the U.S. utility sector and localizes it dramatically in Georgia, where utility-scale solar and hydropower for the first time generated more electricity than coal during the first half of the year.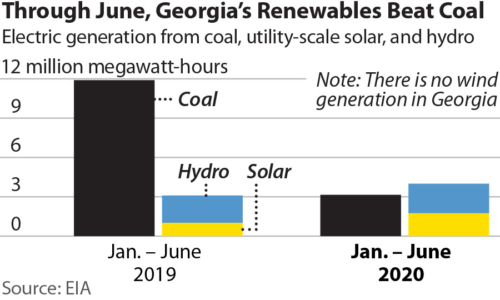 This is of special note because Georgia is home to the two largest coal-fired power plants in the U.S.—the 3,440 megawatt (MW), four-unit Plant Scherer and the 3,232MW, four-unit Plant Bowen. It also highlights the accelerating national trend toward using less coal-fired generation, which is more expensive than competing sources.
In the first six months of the year, Scherer and Bowen, combined with the Wansley plant and a few small industrial facilities in Georgia, generated 3.24 million megawatt-hours (MWh) of electricity—down 73% from the 11.98 million MWh generated in the comparable year-earlier period. It was the biggest decline in coal use for any state that still has significant coal-fired generation, and pushed coal's share of Georgia's electric generation down to just 6%. In contrast, utility-scale solar and hydropower produced 4.01 million MWh through June 2020, a marked increase for renewable generation (Georgia has only slight natural wind resources and no installed wind power capacity).
This is just the start of a significant run-up in utility-scale solar
The renewable results were driven by a 72% increase in utility-scale solar generation, which totaled 1.74 million MWh during the first six months of 2020, up from 1.01 million MWh in 2019. This is likely to be just the start of a significant run-up in Georgia utility-scale solar generation. According to the Solar Energy Industries Association, more than 1,000MW of solar capacity has been added in the state just since the beginning of 2019, growth that has pushed total installed capacity to 2,659MW through the first quarter of 2020. More is on the way: SEIA projects that 1,766MW of additional solar capacity will be installed in Georgia in the next five years.
The first-half solar generation puts the state on track to shatter its previous annual high of just under 2.1 million MWh, set in 2019. Adding the actual output from the third and fourth quarters of 2019 to the first-half 2020 numbers would push this year's estimated total to about 2.8 million MWh, a 35% year-on-year increase. However, given the increase in the first half of 2020 compared to the same 2019 period, the full-year 2020 numbers are likely to exceed 2.8 million MWh.
THE INCREASE IN GEORGIA SOLAR GENERATION, COUPLED WITH RISING GAS-FIRED GENERATION AND LOWER STATEWIDE ELECTRICITY DEMAND DURING THE FIRST HALF OF 2020, has been bad news for the state's three remaining utility coal plants.
Wansley, a two-unit plant with 1,744MW of capacity, has not sent any electricity to the grid this year after posting an annual capacity factor of 11.9% in 2019 and 18.3% in 2018. The sharp declines in output from Scherer and Bowen, however, are especially jarring. 
Bowen is 100% owned by Georgia Power, a subsidiary of Southern Company, and was a mainstay of the utility's generation fleet through 2010, consistently posting an annual capacity factor above 70% and peaking at 82%. But the past decade has changed all that, first with the surge in low-cost gas and, more recently, the rise in solar generation. The pressure on coal-fired generation has become so severe that in its integrated resource plan last year the utility and state regulators agreed to limit maintenance expenses at Bowen 1 and 2 for the coming three years to $19 million annually, while asserting that the two units remained economically viable.
The Hammond plant produced no power in 21 of the 36 months from September 2016 to August 2019
The utility went through essentially the same process in 2016 with the four-unit Hammond plant. At that time, Georgia Power and state regulators agreed to limit expenses at the plant while insisting that it remained vital for grid reliability. Perhaps, but the plant produced no power in 21 of the 36 months from September 2016 to August 2019, and recorded a capacity factor of less than 10% in nine of those months. Hammond was deactivated last summer and has since been formally retired.
Bowen—at least Units 1 and 2—is clearly on a similar path. During the first six months of 2020, Unit 1's capacity factor was 14.5%, while Unit 2's was 22%. The looming commercial operation of Georgia Power's two new nuclear units, plus the continued buildout of the state's solar generation capacity, will continue to press Bowen's economics, probably pushing the units into retirement in the not-too-distant future.
Although its ownership structure is much different than Bowen's, performance levels at Scherer are following a similar trajectory: The plant's capacity factor averaged more than 75% in the 2000s before beginning a decline that saw its average drop to 40.1% in 2019. The first six months of this year have been markedly worse, with the plant averaging just 10%.
Florida Power & Light and JEA (the Jacksonville power company), which co-own Unit 4, already have announced plans to close that generator on Jan. 1, 2022. The status of the other three units, particularly 1 and 2, which are owned largely by municipal utilities, is uncertain. But rising solar capacity, coupled with the new nuclear units and persistently low gas prices, will continue undercutting demand for coal-fired electricity generation across Georgia.
Dennis Wamsted and Seth Feaster are IEEFA analysts.
Related items
IEEFA U.S.: Abrupt shift to renewables at Indiana utility underscores a broader trend

IEEFA U.S.: Utilities are now skipping the gas 'bridge' in transition from coal to renewables

IEEFA U.S.: Utah bailout of bankrupt California coal-export project likely to fail