Markets, distance, and community opposition pose obstacles - proposal lacks private sector backers
August 19, 2020 (IEEFA) —A proposed $20 million state investment in a bankrupt California coal-export project would most likely result in a loss to the state, concludes a research brief published today by the Institute for Energy Economics and Financial Analysis.
The brief—Utah Bailout of Bankrupt California Coal-Export Project Would Likely Fail—describes how weak export markets combined with community opposition all but ensure that siphoning state dollars to bankrupt Insight Terminal Solutions would be throwing good money after bad.

"This will end up being $20 million squandered if it goes through," said Karl Cates, an IEEFA analyst and lead author of the brief. "If it were a viable project, the developers would be working with private sector money rather than coming hat-in-hand to taxpayers."
The bailout, pushed by a group of county commissioners and lawmakers, is being taken up this week by the Utah Legislature.
The brief notes that Insight Terminal Solutions (ITS) is run by the same executives who tried to get Utah to put money into a "similar if not identical project" under Bowie Resources and Trafigura five years ago. IEEFA at the time noted that the proposal—relying as it did on public dollars—served to "underscore the lack of private financial investment in the coal industry today." 

"The new plan has the same hole in it," the new research brief said.
At issue, additionally, are questions as to whether there is even a viable export market for Utah coal, which Insight Terminal Executives say would go to Japan, whose appetite for coal is waning as Japan shifts to less carbon-intensive electricity generation.

"Japan's move is part of a larger trend in developed Asian nations to move away from coal: South Korea, for one, has unveiled an ambitious, $35 billion plan to ramp up investments in wind and solar and in energy efficiency initiatives in hopes of tripling the nation's renewable energy output by 2025," the brief states. "Since 2018, a combination of weak demand and abundant supply has pushed Pacific Rim coal prices to their lowest in five years (see the chart below from IHS on the benchmark Newcastle price)—far too low for U.S. exporters to make a profit. Futures contract pricing offers no sign of a near-term rebound."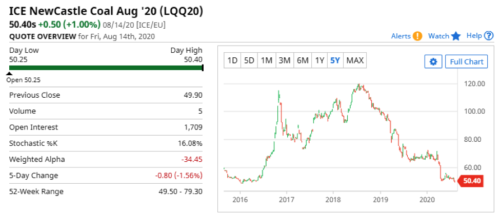 To reach Japan, Utah coal would have to be shipped 900 miles overland to Oakland, and then more than 2,000 miles across the Pacific Ocean, a costly proposition that would make it difficult to compete with more favorably located suppliers in Australia, Indonesia, and Russia.
The brief notes also that market forces are driving coal out of business across the country, and it calls for more forward-looking public investment.

"The U.S. coal industry is in irreversible decline, and the effects can be seen locally, regionally, and globally. The proposed bailout of ITS, if it proceeds, would be a shot in the dark with little chance of the state reaping any return on its investment and a much higher likelihood of loss."

"Such spending would be better deployed locally through reinvestment in Utah's rural coalfield communities."
Full brief: Utah Bailout of Bankrupt California Coal-Export Project Would Likely Fail

Author contact
Karl Cates [email protected] (917) 439-8225
Media Contact
Vivienne Heston [email protected]  (914) 439-8921

About IEEFA
The Institute for Energy Economics and Financial Analysis (IEEFA) conducts global research and analyses on financial and economic issues related to energy and the environment. The Institute's mission is to accelerate the transition to a diverse, sustainable and profitable energy economy.