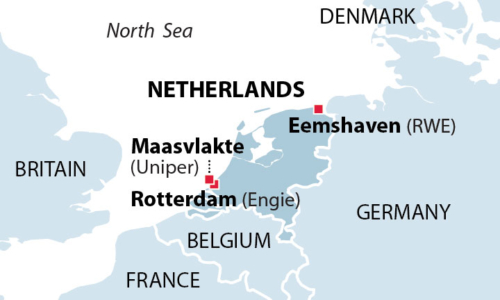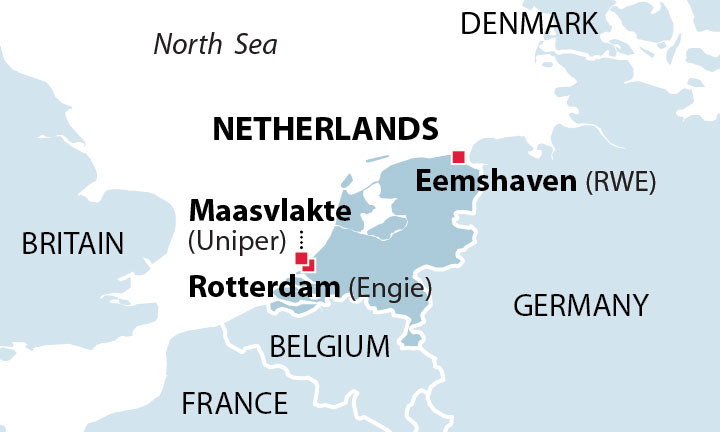 LONDON – The owners of three new Dutch coal power plants in the Netherlands are nursing around €4 billion in losses, as a result of market headwinds and a mandated coal phaseout, but only one, Engie, has decided to exit coal power in the country, as the remaining two, RWE and Uniper, hold out for compensation which will delay a more strategic, low-carbon shift.
The Netherlands is an extreme example of the dilemma facing European utilities that have clung to coal generation, despite warning signs from falling power prices, competition with renewables and climate policies.
RWE, Uniper and Engie, were especially late recognising these warnings in the Netherlands, commissioning three brand new coal power plants in 2015, as noted by IEEFA in its report, The Dutch Coal Mistake in 2016.
IEEFA estimates that they have now collectively written off more than €4 billion of value, crippled by major challenges including falling renewable energy costs and rising carbon prices, compounded by the Dutch government's announcement last year of a coal phaseout by the end of 2029.
Typically, companies value their assets according to expected cash flows over their lifetime. If circumstances change, lowering such cash flows, the company is forced to write down the value of the asset, and register the difference as an impairment loss.
RWE, Engie, Uniper impairments worth over €4 billion
From a review of annual reports, we estimate that RWE, Engie and Uniper collectively have made impairments worth more than €4 billion
on their new Dutch power plants. Once we add depreciation, they now have rather little value left, at just over €1 billion, compared with original investments of around €6.5 billion (see Table below). Utilities rarely attribute impairments to named, individual assets, and so these values are approximations.
Going forward, only Engie has bitten the bullet, making a clean break which has seen the French utility write down to almost zero the value of its 800-megawatt (MW) Rotterdam power plant, preparing for a deeply discounted sale that includes three German coal power plants, to the private equity firm, Riverstone.
By contrast, RWE and Uniper are holding on to their assets, seeking to extract any remaining value, largely focused on opportunities for compensation.
RWE IS AIMING FOR SUBSIDIES TO CONVERT ITS 1,600MW EEMSHAVEN POWER PLANT FULLY TO BURN BIOMASS, OR ELSE RECEIVE COMPENSATION FOR EARLY CLOSURE. The company is threatening the Dutch government with legal action if it fails to receive compensation "for the financial disadvantages that we would suffer as a result of the planned coal phaseout." The approach mirrors RWE's compensation strategy in Germany, a country which also recently supported a coal phaseout.
The fate of Uniper's 1,070MW Maasvlakte 3 power plant in the Netherlands is in limbo, as the Finnish utility, Fortum, attempts to complete a takeover.
However, Uniper remains intent on completing the construction of a new 1,100MW coal power plant in Germany, called Datteln 4, even as its Dutch investment unravels. To date, Uniper has invested €1.5 billion, and plans to invest further significant amounts before commissioning the power plant next year. The company has already made impairments of €500 million, largely as a result of boiler repairs.
Compensation aimed at eking out shareholder value at taxpayer expense
Like RWE, Uniper views compensation for closure as an important future source of value, even as it completes construction of Datteln 4, saying: "The project to replace the boiler walls continues with undiminished speed. It cannot be ruled out, however, that the German government could ask Uniper, as part of the recommended political discussions, to consider not putting Datteln 4 into operation in return for appropriate compensation."
Strategies to continue to build or run coal power plants in Europe, to eke out compensation for closure, are an attempt to maximise shareholder value at the expense of taxpayers.
Engie's discounted sale to Riverstone seems to indicate low expectations for a generous payout, highlighting the risk that RWE and Uniper's compensation strategies will fail. Such strategies risk diverting scarce financial and intellectual capital away from new, forward-looking projects.
THE BALANCE OF COMPANY, SHAREHOLDER AND WIDER SOCIAL NEEDS WOULD BE BEST SERVED BY ACCELERATING THE CLOSURE OF COAL POWER PLANTS. Shareholders have an important role to play in pressuring companies to cut their losses, close their coal power plants, and move on.
One such forum for raising shareholder voices of support for a transition away from coal might be the Climate Action 100+ group, whose members include more than 300 investors managing some $33 trillion in assets, some of whom recently called for a 2030 coal power phaseout in developed countries, including Europe.
The time is ripe for companies like RWE and Uniper to exercise sound market judgement and accelerate transitions to renewables.
Table. Approximate impairments against book value at three new Dutch power plants, €mln
Gerard Wynn ([email protected]) is an IEEFA energy finance consultant.
Related Items
IEEFA update: When will renewables dominate EU power markets?
IEEFA report: The Dutch Coal Mistake
IEEFA report: Over 100 Global Institutions are Exiting Coal, with More to Come