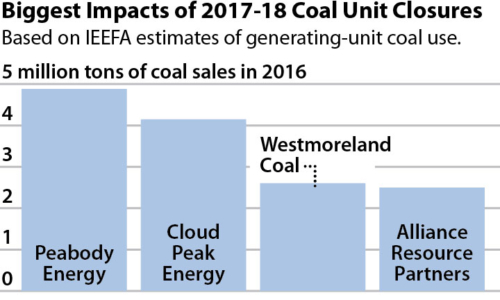 We've published a research brief today that presents an expansive snapshot of a moving target: the decline in U.S. coal-fired generation nationally.
As global energy markets continue to undergo rapid transformation, change has swept the U.S. as well.
Our brief—"U.S. Coal Phase-out, Blow by Blow: Plant Closings and the Likely Corresponding Effect on Specific Companies and Mines"—  focuses on how the scheduled closures, conversions or curtailments of 46 coal-fired generating units at 25 electricity plants in 16 states stand to affect the U.S coal-mining industry through 2018, including the loss of nearly 30 million tons of coal demand.
While the brief presents a kind of moment in time, it also captures a deeper trend IEEFA has documented in previously published research that includes a January study, "IEEFA U.S. Coal Outlook 2017: Short-Term Gains Muted by Prevailing Weaknesses in Fundamentals."
We've detailed market conditions too in commentaries and research memos that include "Peabody's Recovery Plan Overstates the Market for Coal," "Renewable Energy, Gone Mainstream, Is a Rising Tide," "Market Forces Are What's Killing the Navajo Generating Station," "Even Without Tax Credits, Prices for U.S. Wind and Solar Are on a Downward Slope," and "The Texas Electricity Transition Gains Pace."
The brief we're publishing today is of a piece with this previous research, and breaks into detail the likely coal-industry effects of electricity-generation companies moving from coal to natural gas and renewables.
Some takeaways:
Producers in two major mining regions will be especially hard hit: those in the Powder River Basin of Wyoming and Montana and those in the Illinois Basin.
Coal-mining operations in the Four Corners region of the Southwest U.S. will also feel sharp effects from plant closings. Those with operations in Appalachia and the Uinta Basin of Utah, two regions already reeling from loss of demand, will be affected as well.
The two U.S. coal producers that stand to be the most affected by the plant closings are the two biggest: Peabody Energy and Cloud Peak Energy. Other substantially affected companies include Westmoreland Coal, Alliance Resource Partners and Foresight Energy.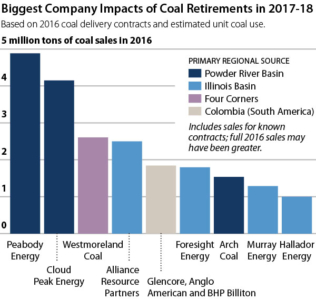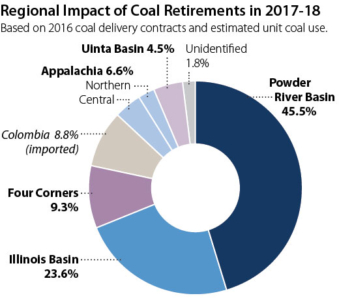 We see the shift in electricity generation across the U.S. as likely to continue as intense cost competition from renewables and natural gas continues a trend toward more coal-fired plant closures.
Our analysis is conservative in that it considers only those plants and units seem either certain or all but certain to close by the end of 2018.
We do not include some possible—perhaps probable—closures of plants like the Navajo Generating Station in Arizona. Nor have we included some plants in Texas, Ohio and Florida that have been shown to be uneconomical to run and highly likely to be retired in the near future but have not been formally designated for retirement.
The transition continues apace, and the ripples run wide.
 Seth Feaster is an IEEFA data analyst.
Full brief here: "U.S. Coal Phase-out, Blow by Blow: Plant Closings and the Likely Corresponding Effect on Specific Companies and Mines"
RELATED POSTS:
As Texas Coal-Fired Power Plants Close, Powder River Basin Mines Are Losing Their Largest Customers
IEEFA Update: Full Retirement of Plant Hammond Remains the Best Outcome for Georgia Ratepayers
IEEFA Indiana: Another Coal-Fired Plant That Should Be Retired
IEEFA Update: Wind Is Blowing Away Fossil-Generated Power in Middle