More Coal Plant Closings on the Horizon; Wind and Solar on the Rise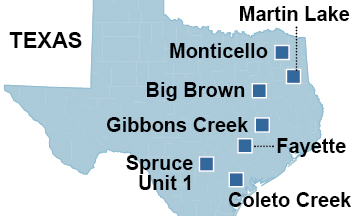 Texas continues its remarkable transition away from coal-fired electricity generation.
And the trend is gaining momentum because market forces are in the driver's seat, which is to say coal plants for the most part are no longer competitive with other sources of energy. A report we published last fall—"The Beginning of the End: Fundamental Changes in Energy Markets Are Undermining the Financial Viability of Coal-Fired Power Plants in Texas"—gets into the weeds by analyzing seven Texas coal plants (see the map here) that are at serious risk of being retired soon because they cannot compete anymore.
The report talks about increased competition especially from thousands of megawatts of new wind and solar resources. It discusses how many coal-fired power plants in Texas no longer act as baseload plants and are instead limited to operations during peak load seasons. It notes that coal plants' share of electricity generation recently has amounted to less than a quarter of the total of all power generated across ERCOT, aka the Electricity Reliability Council of Texas, which runs the state's grid and manages most of the unregulated electricity market in Texas.
We've noted, more broadly, the absence of a capacity market in ERCOT and how capacity markets elsewhere help keep money-losing coal plants alive by guaranteeing them revenue regardless of whether they produce power.
And among our research conclusions on the ERCOT transition is this big-picture reason for why coal plants are failing:
"Low energy market prices in ERCOT's deregulated wholesale markets driven by lower natural gas prices and increased generation from renewable resources."
Now a team of analysts at S&P Global Platts have weighed in with similar conclusions, arguing that "something has to give in ERCOT in the form of unit retirements."
Here's the lead sentence in a piece published this week in the S&P Global Platts Coal Trader newsletter:
"Low power prices in the Electric Reliability Council of Texas market might be relieved by retiring some of the market's coal-fired power plants, according to a recent report from S&P Global Ratings."
That introduction is followed by detail that includes this passage:
"'What remains to be seen is whether Vistra Energy will shut down its marginal coal units Big Brown, Martin Lake, and Monticello, or [whether it] continues to seasonally run them,'" said the S&P report. 'We see the closure of these units as an important signal for any recovery in the markets.' Vistra, which is the newly-named holding company of the spun-off generation and retail electricity units of Energy Future Holdings, has given no indication publicly that it will retire any of its units — coal or otherwise — this year. Nevertheless, S&P said, 'We do not see these units as capable of operating long under current conditions. We note that recent capacity factors registered by these units are significantly lower than their highs in the 2004-2008 period.' In 2016, coal-fired generation provided 28.8% of the energy used in ERCOT, versus 43.7% from natural gas, 15.1% from wind and 12% from nuclear."
There's more here from S&P that further affirms our findings, which are specific to Texas in the material cited here but that indicate U.S. electricity-generation markets are changing, and they are doing so at the expense of coal.
David Schlissel is IEEFA's director of resource planning analysis. 
 RELATED POSTS:
IEEFA Op-Ed: Coal Will Not Recover
IEEFA Update: As U.S. Electricity-Generation Transition Continues, Signs of Tough Year Ahead for Coal-Power Sector
IEEFA Update: Many Hurdles Facing U.S. Coal-Fired Power Fleet