We've published a paper today that explains why Georgia Power should retire Plant Hammond, an outdated coal-fired electricity plant in northwest Georgia.
The report, posted here, details how the 840-megawatt plant, whose four units are from 44 to 61 years old, has grown increasingly expensive to ratepayers in recent years.
Plant Hammond's high costs are caused both by a decrease in generation at the plant and by significantly higher variable costs (fuel and non-fuel operations and maintenance). The amount of power generated by the plant has declined precipitously since 2007, when natural gas prices collapsed. As a result, electricity that probably would have been generated by Plant Hammond has been displaced by electricity produced at lower-cost natural gas-fired plants.
Plant Hammond is facing three challenges in particular:
The likelihood that natural gas prices will remain very low for the foreseeable future;
The fact that Georgia Power is on track to add 1,000 megawatts of new solar capacity by 2016 and more than 1,000 megawatts of new nuclear capacity by the early years of the next decade;
The absence of much evidence to suggest that the company's peak demands and energy sales will increase substantially in the years ahead.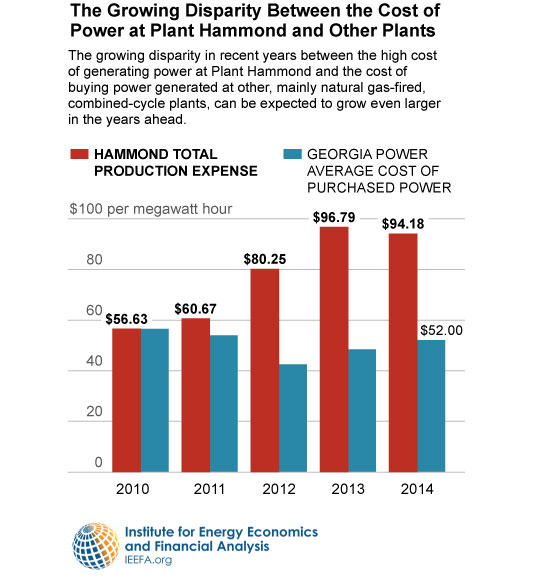 We note also that Plant Hammond is similar to other coal-fired plants Georgia Power has either retired or announced it will retire soon. The plant is hobbled by outdated coal-burning technology, poor operating performance and high production costs. And the power it does produce is much more expensive than electricity available to Georgia Power from other sources, including wind and solar.
While Georgia Power has suggested this plant might be retired as a result of the emission standards mandated by the EPA's Clean Power Plan, the reality is that Plant Hammond's weak economics alone are enough to warrant closure.
Georgia Power would be serving its customers best interests by retiring the plant.
David Schlissel is IEEFA's director of resource planning analysis.
See the full report here: "Georgia Power Company Should Retire Plant Hammond.
Presentation: Georgia Power Should Retire Plant Hammond, by David Schlissel