India continues to make no bones about its intentions to move away from coal-fired electricity generation.
In yet another major policy shift underscoring how seriously the country is working to transform, modernize and diversify its electricity sector, the Indian Energy Ministry just this week announced plans to cancel four proposed coal-fired power plants with a combined capacity of 16 gigawatts (GW). The plans had called for four ultra mega power plants (UMPP) across Chhattisgarh, Karnataka, Maharashtra and Odisha.
All four have been cancelled now due to lack of interest from the host states.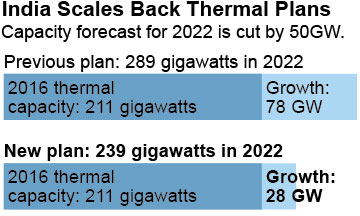 The plants' developers had gone through eight years of planning but had run up against stiff community resistance to compulsory land acquisition and forced community resettlement. That opposition, combined with an electricity power surplus, culminated in the cancellation order.
What's more, two of the UMPPs had been planned for coastal locations, aimed to run on imported coal. Their cancellation is in line with Indian Energy Minister Piyush Goyal's target of eliminating thermal coal imports into India. Goyal's strategy is to drive the delivered cost of electricity down, reduce the current account burden, improve energy security and to acknowledge the straight-out lack of need in light of increased domestic production.
India's declining demand for imported coal is regularly evident in the data. April 2016 coal imports fell 15 percent year on year.
These four UMPPs would have required upwards of 46 million tonnes per annum of coal (approx. 12Mtpa per plant), half of which was to have been imported.
In the meantime, the Ministry of New and Renewable Energy has set the highest ever annual capacity addition target for clean power—16,660 megawatts (MW) for 2016-2017. Of this, the solar installs target is 12GW, wind is 4GW, biomass power is 400MW, small scale hydro-electricity is 250MW and waste-to-power is 10MW.
India is increasingly looking to source its incremental electricity needs from expansions of renewable energy and by accelerating energy- and grid-efficiency programs. With averaged coal-fired-plant utilization rates hitting six-year lows of 58 percent in 2015-16, (down from 75 percent in 2010), the government is also seeking to improve existing thermal capacity.
A steady patter of news in addition to this week's announcements underscores India's commitment to transition.
In May, S.D. Dubey, chairman of the Central Electricity Authority, announced plans to close up to 37GW of antiquated, heavily polluting subcritical coal plants, stating: "Our first concern is emissions … We also want plants to be more efficient in use of resources." This 37GW is equal to 20 percent of India's current coal-fired power fleet, or 12 percent of the total system capacity of 303GW.
In April, the Power Ministry announced it had scaled back its projected thermal power capacity growth forecast by 50GW, reducing the target from 289GW to 239GW by 2022. India's current thermal power capacity is 211GW, and Power Ministry officials said this month the country needs no new thermal capacity for the next three years beyond what is already under construction.[vi]
This week, S&P Global Platts forecast a reduction in India's reliance on coal-fired power generation from an estimated 69 percent share in 2020 to 60 percent by 2030, down from a peak of 75 percent in 2015. IEEFA see the 60 percent milestone being reached as early as 2025.
The government message is clear, consistent and compelling.
It was reinforced again when Prime Minister Narendra Modi said in a speech to members of the U.S. Congress this week that India's goal of 7.6 percent annual growth must "be achieved with a light carbon foot print, with greater emphasis on renewables."
Separately, Modi assured President Obama that India this year will ratify the Paris climate agreement this year.
Tim Buckley is IEEFA's director of energy finance studies, Australasia.