Price, public policy, and technological gains are driving market-share gains
The uptake of renewable energy across the U.S. is occurring now at a speed that almost defies description.
At the end of 2007, some 16.7 gigawatts (GW) of wind-generation capacity had been installed; total capacity this year is expected to top 90 GW and additional capacity under construction will soon push the total past 100 GW, according to the American Wind Energy Association.
A similar trend is taking root in solar. A decade ago, the U.S. had almost no solar photovoltaic (PV) generation to speak of; today total installed capacity is roughly 56 GW, according to the Solar Energy Industries Association.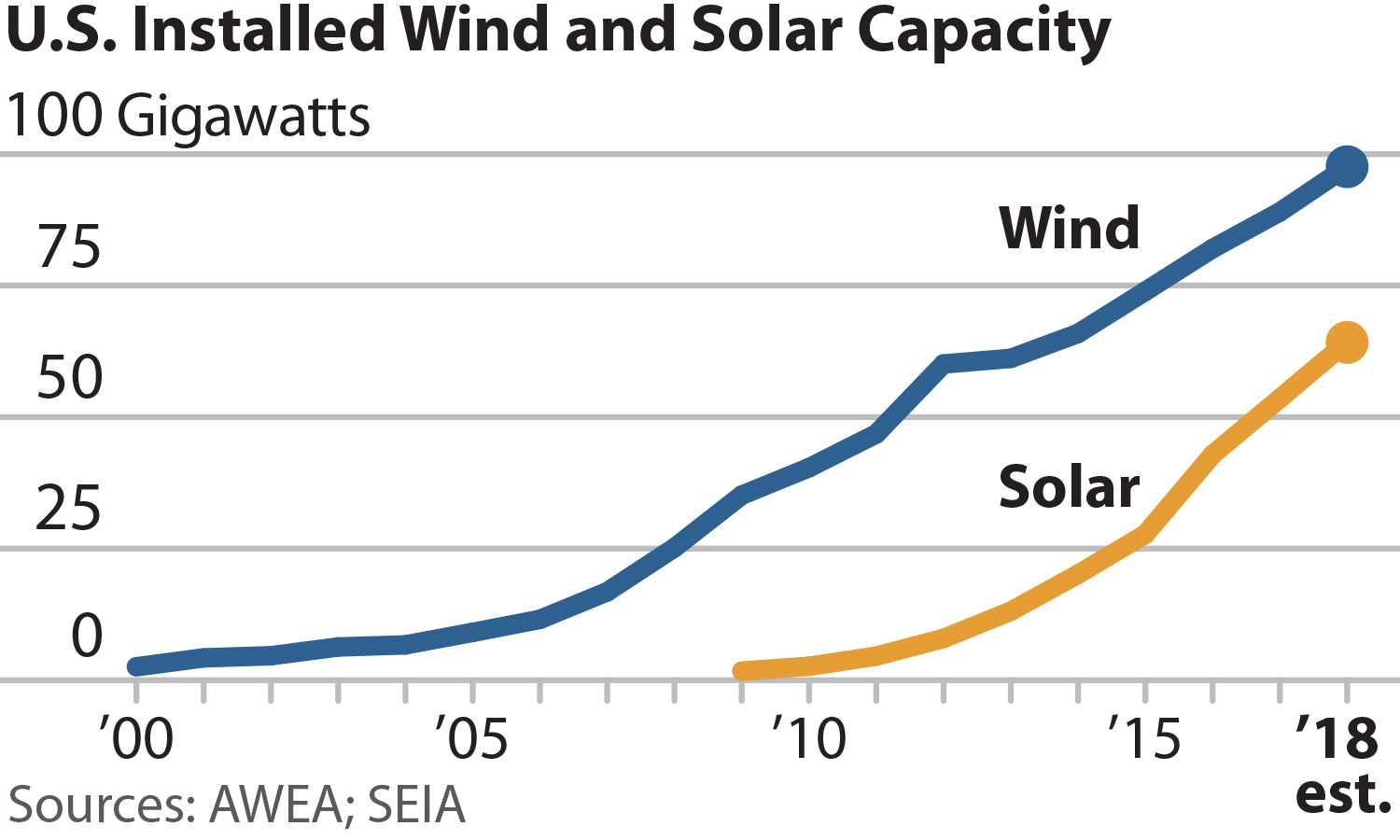 Despite this rapid growth—or perhaps because of it—many analysts, fossil fuel promoters and their political allies seem unable to incorporate renewable energy trends into their planning. This failing has been particularly pronounced at the U.S. Energy Information Administration, the independent data arm of the U.S. Department of Energy. In its just-issued July "Short-Term Energy Outlook," the EIA has non-hydropower renewables, which accounted for slightly less than 10% of electricity generation in 2017, providing "more than 10% in 2018 and nearly 11% in 2019."
Data collected by the EIA and published in its "Electric Power Monthly" show that non-hydropower renewables through April 2018 already account for 11.5% of the nation's electricity generation. Given the likelihood of more activity across both the solar and wind sectors, it's hard to believe the overall percentage of electricity generation from renewables will fall.
IN FACT, RECENT DEVELOPMENTS WILL VERY LIKELY TRIGGER MORE STRONG GROWTH in wind and solar construction alike. Solar-panel import tariffs imposed by the Trump administration last year prompted analysts to lower forecasts for solar PV growth on the assumption that tariffs would drive up the price of solar power. But a persistence downward trend in U.S. solar pricing has continued in 2018: Just last month, the Central Arizona Project signed a record-low 20-year purchase power agreement for $0.0249 per kilowatt-hour (kWh). That record didn't last long, as Nevada's NV Energy the next day announced the signing of a 25-year solar PPA for $0.0237/kWh.
Public policy and technological advancements also likely will create more momentum around solar.
In late June, the IRS issued a ruling that will allow solar developers to take full advantage of a 30% investment tax credit (ITC) provided they begin construction by the end of 2019 or have spent at least 5% of the project's expected total cost by that date. After then, the ITC drops in stages to 10% percent by 2022, although it is possible it will be extended or expanded by congressional mandate
The California Energy Commission decision in May to require all new home construction to include rooftop solar starting in 2020 is significant. Analysts expect roughly 100,000 houses per year will fall under the new mandate.
The private sector itself is driving the uptake of solar, as research paves the way for more price declines and/or the opening of new markets. Research into using perovskite materials to make thin film solar cells appears especially promising. One company, U.K.-based Oxford PV, is pairing perovskite and silicon in a solar cell with potential efficiencies of more than 30% (the company says it already produced one that can operate at 27% efficiency, a milestone of note because it is a huge leap from 2012, when perovskite materials were first used in solar cell with efficiencies of barely more than 10%).Oxford PV is not the only perovskite enthusiast. The U.S. National Renewable Energy Laboratory in Colorado says that with technological gains, "a perovskite-based technology holds transformational potential for rapid terawatt-scale solar deployment."
ON THE WIND SIDE OF THE RENEWABLE ENERGY INDUSTRY, turbines are growing in size and efficiency, leading to bigger returns on investment. According to DOE data, projects constructed in 2014 and 2015 posted an average capacity factor of 42.5% in 2016, compared to the 32.1% average for projects built from 2004-2011.
Offshore trends are even more promising. Denmark's 400 megawatt Anholt 1 facility has posted an average capacity factor of 49.4% since in came online in 2013, and it topped that performance last year—averaging 53.7%. The project is more efficient than expected, in other words, and that's because wind-generation technology keeps improving.
GE, the multinational power industry behemoth, has production plans for what will be the world's biggest and most efficient turbine: the 12 MW Halide-X offshore turbine is scheduled to go to market in the early 2020s, GE says, with a capacity factor of 63%. It will enter service just as the U.S. offshore wind sector is likely to be generating more investment; the business has evolved slowly in the U.S., which lags Europe and so far includes only one small operational project and several others now under contract. But the U.S. offshore sector is poised now to take off faster than anticipated—just as onshore wind and solar have—driven by price declines created by extensive development initiatives in Europe.
There's also the fast-growing energy storage industry, which stands to make it more and more viable for the power generation industry to link renewable energy resources in an increasingly grid-responsive way. Arizona Public Service Co., the Salt River Project (also in Arizona), and Pacific Gas & Electric all have announced initiatives this year to incorporate storage with clean energy resources. PG&E, which is planning four storage units capable of storing a combined 567 MW of power, is including in its buildout a 300 MW unit to be built by Vistra Energy that would be the largest lithium-ion battery in the world.
Dennis Wamsted is an associate editor at IEEFA.
RELATED ITEMS:
IEEFA update: The American wind-energy horse is out of the barn
IEEFA update: Heartland U.S. utilities continue to move away from coal
IEEFA Report: Advances in Solar Energy Accelerate Global Shift in Electricity Generation