Thousands are at risk; IEEFA initiative will support immediate bulk distribution of hand sanitizer and medical isolation tents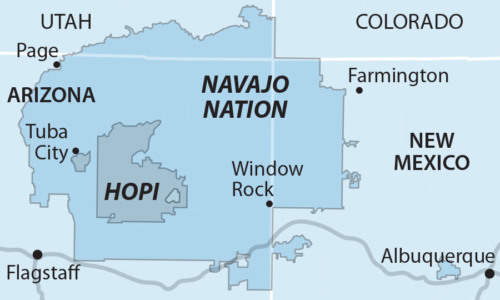 As the COVID-19 pandemic wrecks lives and economies around the world, few places are being hit harder than the Navajo and Hopi communities of northeastern Arizona. 
Thousands of households in the area have no running water, making them especially vulnerable to the spread of the new coronavirus. One immediate solution is to get hard-to-acquire hand sanitizer into these communities, and IEEFA is working now with Tumbleroot Brewery and Distillery in Santa Fe, N.M., to produce and distribute hundreds of gallons. (Donate here).
The relief effort is dwarfed by the size of the crisis facing the Navajo and Hopi communities
The owners of Tumbleroot have rejiggered their production system to make alcohol-based sanitizer in volume, and on Monday afternoon produced and packaged 200 gallons for delivery the next day. Half that order went to Second Mesa, Ariz., in the heart of Navajo County tribal lands. A good portion will go to trading posts through the on-the-ground work of Nicole Horseherder, a rancher who lives near Black Mesa and is the director of Tó Nizhóní Ání, an organization that promotes sustainable use of tribal resources. A hundred gallons were sent to Flagstaff for free distribution to shoppers at Navajo Shopping Centers Inc., which has 10 outlets in the region. Tony Skrelunas, a longtime indigenous activist and entrepreneur, is managing that drive.
Jason Kirkman, the co-owner of Tumbleroot, delivered the initial sanitizer shipment personally in a 15-year-old GMC pickup, making the 800-mile round-trip in one day.
Today, IEEFA—which has a longstanding relationship with these communities through its regional work on energy policy issues—arranged with Tumbleroot to produce an additional 500 gallons for delivery next week. But the need goes well beyond that amount and will remain steady if not rise for the foreseeable future. The population of Navajo Nation exceeds 150,000, and thousands of households lack—in addition to running water—basic infrastructure like internet services, paved roads and electricity. The Hopi community, which is located on separate land within the larger Navajo Nation, has dire COVID-related needs as well.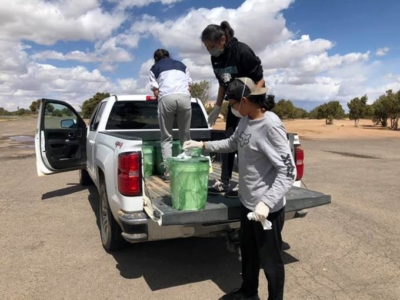 IEEFA has set up a donation portal to support the hand-sanitizer initiative along with a companion effort to deliver medical isolation tents to healthcare facilities in the area. An initial shipment of 20 tents is being processed now for delivery to the Chinle Comprehensive Healthcare Facility in Apache County and the Tuba City Regional Healthcare group in Coconino County. Both facilities are over capacity and turning away sick patients, sending them back to home environments in which social distancing is almost impossible. Isolation tents will be used as temporary structures to contain the spread of the virus.
Every dollar donated to this initiative will go directly to the production and delivery of these relief supplies.  
Medical isolation tents cost about $300 each. Hand sanitization production and delivery runs approximately $30 per gallon. 

Every donation will help.

Sandy Buchanan is IEEFA's executive director. Karl Cates is an IEEFA policy analyst based in Santa Fe, NM.
Campaign link: COVID 19 Response – Navajo and Hopi Community Assistance
Related items

As Coronavirus Cases Rise, Navajo Nation Tries to Get Ahead Of Pandemic
COVID-19: Navajo Nation lost more to virus than 13 states

For one man in a remote part of the Navajo Nation, COVID-19 seemed unreal until he got it