Statewide risk as fast-moving transition sweeps across power-generation industry
March 2, 2020 (IEEFA) — Arizona utility companies that are closing coal-fired power plants must reinvest aggressively in regional coalfield communities in order to avoid local economic disarray that could affect the state's overall financial health, concludes a report published today by the Institute for Energy Economics and Financial Analysis.
The report—The Case (and the Mechanisms) for Utility-Company Reinvestment in Arizona's Coalfield Communities—sees reinvestment opportunities in four counties in eastern and northeastern Arizona that have been or will be damaged economically by the rolling closure of coal-fired plants. 
The report notes that Navajo Generating Station closed last November, closure of Cholla Generating Station is imminent, and Arizona's three other coal-fired plants: Apache, Coronado, and Springerville Generating Stations, are struggling to compete with gas-fired and renewable forms of energy.
"Utility-company reinvestment in these communities—through utility-scale renewable power projects, infrastructure development, worker retraining, education, and other meaningful initiatives—is easily in the best interest of Arizona as a whole," wrote the report's lead authors, Karl Cates, an IEEFA energy policy analyst, and Amanda Ormond, a former director of the Arizona Energy Office.
The report names four counties in the line of fire—Apache, Cochise, Coconino and Navajo—and notes that Hopi and Navajo communities are bearing much of the brunt of job losses and tax-base erosion. It points out, too, that Arizona's utility sector holds a substantial stake in coal-fired assets in neighboring New Mexico, part of the "greater Arizona" energy economy.
The report names three mechanisms by which Arizona can drive utility-company reinvestment:
Rate initiatives or rulemaking by the Arizona Corporation Commission (ACC), which can require investor-owned utilities like

Arizona Public Service Company

and

Tucson Electric Power Company

, respectively the largest and third-largest utilities in Arizona, to reinvest;  

Unilateral action by

Salt River Project

, the second-largest utility in Arizona and run by a board accountable to their customers and to the greater good of Arizona; 

Legislative action that would compel any or all of the utilities to set aside money for reinvestment or that would force a ballot initiative on the issue.
"Communities most immediately affected are ripe for reinvestment now," the report concludes. "All still have skilled work forces and plentiful transmission infrastructure. All have abundant land, sunshine, or wind, making them potential regional clean-energy powerhouses."
The report details reinvestment initiatives under way elsewhere, notably in Colorado, Washington state and Germany noting that, barring reinvestment, taxpayer-funded public services in communities affected will accrue to the state.
It cites a reinvestment proposal recently submitted to the Arizona Corporation Commission in a Tucson Electric Power Company rate case that would have the utility reinvest $61.2 million in the communities in and around three coal-fired plants it owns in the Four Corners area of northeastern Arizona and northwestern New Mexico. The proposal would require the utility to reinvest $100,000 for every megawatt of ownership it has or had in three coal-fired plants (Navajo Generating Station in Arizona and Four Corners Power Plant and San Juan Generating Station in New Mexico), and this would be considered an initial reinvestment, not a final one.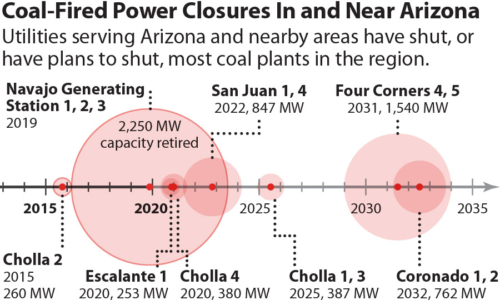 Full report here: The Case (and the Mechanisms) for Utility-Company Reinvestment in Arizona's Coalfield Communities
Karl Cates is an IEEFA energy transition analyst.
Amanda Ormond is a public policy consultant.
Seth Feaster is an IEEFA data analyst.
Kelli Roemer is a rural and resource geographer.
Author contacts:
Amanda Ormond (Arizona): [email protected] (480) 227-8312
Karl Cates (New Mexico): [email protected] (917) 439-8225

Media contact:

Vivienne Heston (New York) [email protected]  +1 (914) 439-8921

About IEEFA:
The Institute for Energy Economics and Financial Analysis (IEEFA) conducts global research and analyses on financial and economic issues related to energy and the environment. The Institute's mission is to accelerate the transition to a diverse, sustainable and profitable energy economy.