Call for $20 million of immediate capital for plant/mine decommissioning, site reclamation, post-coal business development, asset repurposing
March 28, 2019 (IEEFA Arizona) — A research brief published today by the Institute for Energy Economics and Financial Analysis (IEEFA) and lead author Tony Skrelunas, Navajo, MBA, identifies fast-emerging investment opportunities in the post-coal economy of northeastern Arizona.
The brief — Navajo-Hopi Transition Impact Investment Fund: Four Opportunity Areas— describes capital investment opportunities in four critical areas in the wake of the imminent closure of the Navajo Generating Station (NGS) and Kayenta Mine.
Decommissioning and remediation of NGS;
Reclamation and restoration of Kayenta Mine lands;
Revenue replacement through community-based business opportunities and job creation ranging from utility-scale solar generation to tourism, manufacturing, and retail trade;
Repurposing of existing facilities at NGS and of other assets such as the railroad, buildings and airstrip associated with the plant and the mine.
Investment across all four areas will support Navajo communities affected by the shutdown of the mine and the plant, and each opportunity will require a speedy infusion of capital.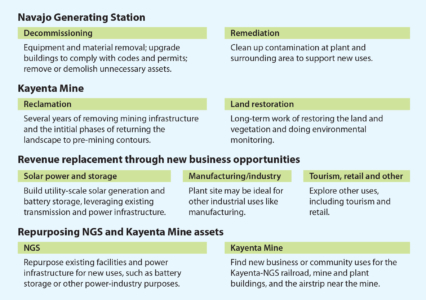 "We recommend that an impact investment fund of at least $20 million be formed immediately to provide critical capital to Native American-owned contractors bidding on opportunities within the first three areas of start-up/expansion," Skrelunas said. "Such funding will provide joint-venture equity to support partnering with larger contractors, purchasing of equipment, and crucial cash flow."
The brief stresses the importance of timely investment activity and names several potential sources of capital.
Excerpts:

"Ample and long-term opportunities for contractors and business owners exist now, and it is of paramount importance to move swiftly, as the master contractor at Salt River Project—the main owner of NGS—has already begun decommissioning work at the plant."
"Navajo-Hopi Transition Impact Investment Fund capitalization sources would include former and current owners of the mine and plant, the federal government, foundations, impact investors, opportunity-zone investors, Navajo and Hopi business development programs, and Treasury Department-certified community development finance institution (CDFI) investors."
"The fund would be managed by an experienced team of strategic organizers able to organize across institutions that include chapter/village councils, local elders, outside investors and companies, and Hopi and Navajo Nation governments."
"Opportunities for partnership, investment, major entrepreneurial initiatives, and significant revenue are apparent, and become increasingly so in the wake of the NGS and Kayenta closures."
NGS will be formally decommissioned in December. Kayenta Mine will cease production in October. Both have been in operation since the 1970s.
Full report here: Navajo-Hopi Transition Impact Investment Fund: Four Opportunity Areas
Media Contacts: Vivienne Heston, IEEFA, [email protected], +1 (914) 439-8921
About IEEFA:
The Institute for Energy Economics and Financial Analysis (IEEFA) conducts global research and analyses on financial and economic issues related to energy and the environment. The Institute's mission is to accelerate the transition to a diverse, sustainable and profitable energy economy.