Economic windfall won't materialize amid delays, policy changes and rising costs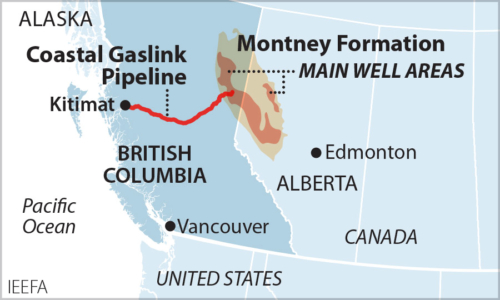 November 24, 2021 (IEEFA) – Due to markets shifts, rising costs and policy changes, Phase I of the LNG Canada export terminal could be the last liquefied natural gas project built in British Columbia under current market dynamics, raising questions about LNG projects that are due to come on line, according to a report by the Institute for Energy Economics and Financial Analysis. 
"Over the last three years, market shifts and policy changes have tested LNG Canada's long-term economic viability," said Omar Mawji, IEEFA's energy finance Canada analyst and the report's lead author. "This project could become a financial albatross for its sponsor investors and it stands as a warning to other natural gas producers in the BC Montney."
LNG Canada proceeded with Phase I of its two-phase project in 2018, but project delays, cost creep, policy changes and medium-term liquefied natural gas prices in Asia have greatly weakened the economics of its British Columbia-based project. 
"At full capacity, the facility is expected to export 14 million metric tons per year to Asian markets," said Brad Williams, co-author of the report and founder of Spitfire Energy Advisors. "However, since construction started in 2019, there have been several regulatory and operation issues that shed doubt on the project's future."
Sustainable development policies and natural gas production regulations in BC Montney have dampened expectations for rapid development of unconventional natural gas production in the province. TC Energy has threatened to halt construction of the Coastal Gaslink (CGL) pipeline, on which the LNG project depends, due to a contractual dispute with LNG Canada over the rising costs of the CGL. 
"If the project sponsors assessed the energy landscape today instead of 2018, they would likely have been far more cautious in deciding whether to move forward with Phase 1," said Mawji. "The conditions do not bode well for other LNG projects in Canada."
LNG Canada began as an arbitrage opportunity to take advantage of record low natural gas prices in the BC Montney, the province's largest unconventional natural gas play. The price of British Columbia's land-locked natural gas trades at a discount relative to other Canadian hubs and the U.S., making it an ideal natural gas feedstock for the company. 
Phase 1 will take one-third of natural gas produced in the province as of 2020 and transport it across the province to LNG Canada's liquefication facility. The LNG will then be shipped to Asia, where it is expected to trade for 10 times the 2018 prices of British Columbia natural gas. 
Full Report: Review of LNG Canada Project: Delays, Policy Changes, and Rising Costs
Author Contacts:
Omar Mawji ([email protected]) is an IEEFA Canada energy finance analyst
Brad Williams ([email protected]) leads Spitfire Energy Advisors
Media Contact: 
Muhamed Sulejmanagic ([email protected]), +1 (313) 246-4547
About IEEFA: The Institute for Energy Economics and Financial Analysis (IEEFA) examines issues related to energy markets, trends and policies. IEEFA's mission is to accelerate the transition to a diverse, sustainable and profitable energy economy.