Research brief: The current state of electricity generation affairs is designed mainly to benefit the coal industry
In April 2018, President Joko Widodo unveiled a roadmap to drive Indonesia into the world's top 10 largest economies by 2030. Making Indonesia 4.0 is a reference to the fourth industrial revolution sweeping the world via innovations in digital technology, artificial intelligence and 3-D printing, among other areas.
Making Indonesia 4.0 aims to spur growth in five sectors of the Indonesian economy—food & beverages, textile & clothing, automotive, chemicals and electronics—and improving Indonesia's global competitiveness and export potential.
The intent is noble, but it ignores the necessary foundation that would make it possible—a modernized, efficient and reliable electric supply system. For Making Indonesia 4.0 to become a reality, the government needs first to embark on an Energy 4.0 campaign, one that will enable the country's electricity system to meet the digital needs of the new era affordably and reliably.
PLN, Indonesia's state-owned utility, is not equipped, either in terms of its existing infrastructure or human resources, to accommodate the power supply and quality needs envisioned in the new 4.0 plan.
We get into the details in a research brief we published today: "Indonesia's Industry 4.0 Plans Require Grid Modernization"
The utility's sprawling transmission and distribution system already is hard-pressed to maintain stable supplies in areas with high load densities, including Jakarta, Bandung and Surabaya.
Outdated commitments to an outdated power-generation industry.
The absence of information about the utility's costs and operations is another impediment. At present it is almost impossible to find any verifiable data regarding PLN electricity generation costs, the so-called BPP (Biaya Pokok Produksi). Since this is used as the basis for every other decision (including tariff levels for IPPs, basic consumer charges, and as a means of calculating subsidy levels) the absence of any real data is troubling.
It calls into question virtually everything the utility does and likely will deter investment from interested outside parties.
The only beneficiaries of the current state of affairs are the nation's coal producers and generators. Despite outside studies showing how high the real costs of coal-fired generation are, government officials and PLN have continued to back coal as the cheapest source of electricity and have insisted on building more coal-fired generation. The graphic below shows clearly how outdated these assertions are.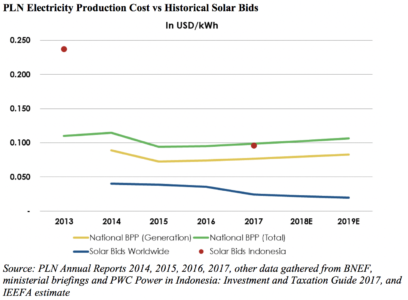 As the chart illustrates, PLN's coal-dependent electric generation costs have been well above the price of solar bids in other parts of the world for the past five years.
To ensure the country has access to the reliable and low-cost power supplies needed to implement the Indonesia 4.0 initiatives, PLN and its government overseers must be willing to discuss the utility's real costs and begin planning for a less coal-dependent future.
ANOTHER PROBLEM STANDING IN THE WAY OF THE COUNTRY'S DEVELOPMENT GOALS is PLN's current direct appointment or award system for generation projects. Instead of putting these contracts out for bid, the utility simply awards them to preferred companies and individuals. While legal, this system has created opportunities for corruption, collusion and nepotism—as demonstrated by the current corruption case involving the Riau 1 IPP—and includes no incentives for keeping costs down or providing reliable supplies.
There are three possible solutions that would help PLN modernize and better address the country's need for reliable, affordable power: creating competition for PLN, establishing an independent body to run the system and turning the utility into a publicly traded entity.
A 2004 Constitutional Court ruling, which essentially held that the electricity sector must be remain under government control, complicates the choices, but does not prevent change entirely.
The government could opt to create some competition for PLN by establishing another state-owned enterprise to go head to head with the current monopoly. While not full competition, the two companies likely would be forced to improve operational efficiency, boost customer service and perhaps even strive harder to roll out innovative solutions, as happened when competition was introduced to the country's telecommunications sector.
A second option would be to establish an independent body sheltered from the government to oversee Indonesia's entire electricity sector.
The third option would be to turn PLN into a publicly listed company, which are necessarily more transparent. Considering the Constitutional Court ruling, this would only be possible if the government retained a majority stake in PLN, but this already has been done in the country's banking and construction sectors.
Elrika Hamdi is an Indonesia-based IEEFA energy finance analyst. She can be contacted by email at [email protected].
Full research brief here: "Indonesia's Industry 4.0 Plans Require Grid Modernization"
Bahasa translation of the report: "Perencanaan yang Salah Kaprah"
RELATED ITEMS:
IEEFA update: Indonesia's high-risk flirtation with resource nationalism
IEEFA op-ed: Losses make Indonesian electric company a high-risk bet
IEEFA update: Southeast Asian fossil fuel risk is underpriced