Oil Giant Owes Investors Answers, and Much More Transparency
The headline news out of ExxonMobil's third-quarter earnings call last week bears repeating: If low prices persist during the fourth quarter of 2016 then as much as 4.6 billion barrels of the company's oil reserves in Canada and North America would no longer qualify as proven reserves.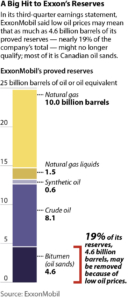 This makes ExxonMobil the latest in a long list of companies that have realized losses from what had been an exuberant build-up of investment in Canadian oil sands during the 2008-2009 price spike. Management also noted that its annual asset impairment review may produce value losses for the company. ExxonMobil's decision to recognize the value reductions on the Canadian and North American reserves comes—notably—even though oil prices have risen this year from a low of $27 per barrel to around $50 per barrel now.
The company made these disclosures after a tumultuous few months in which securities regulators at the federal and state levels questioned the company's reserve levels in light of the declining market. They come on the heels of 10 quarters of subpar performance in which the company has seen declining revenues and an overall lagging of its financial performance, as we laid out in our report last month, "Red Flags on Exxon Mobil (XOM)."  The value adjustments ExxonMobil has made clean up its balance sheet, but ignore the question of how ExxonMobil will turn around its faltering finances.  
Shareholders have a right (and in some cases a duty) to call into question ExxonMobil's decision-making leading up to this announcement. The disclosures were made only after two subpoenas from state attorneys general, considerable media scrutiny, and an inquiry by the Securities and Exchange Commission. The authorities were examining the company's accounting practices and its management of climate-change risk.

Ahead of the announcement, the company had insisted no such write-downs were necessary. It has signaled to investors that the questions were politically motivated and without merit, and benefited from the activity of a congressional committee's turnabout investigation of state attorneys general, the SEC, and environmental groups. And then it watched quietly as the CEO of Imperial Oil, its Canadian subsidiary, talked about how oil prices were expected to remain in the $50 per barrel range and how this was good news for oil sands prospects.
When, then, has ExxonMobil suddenly changed its position on de-booking oil reserves?
The first possibility is that its previous position was wrong.  At a time when every other company in the sector was recognizing impairments caused by the underlying financial weakness of the markets, Exxon Mobil held firm. This despite the fact that U.S. runs on a system of uniform accounting that is a mainstay of capital market organization. When one company becomes an outlier, even if it is the industry leader, a red flag is raised.

A second possibility is that ExxonMobil was simply responding to the pressure. By addressing SEC questions on reserve levels, especially, the company could be seen as having gotten rid of one troublesome issue and perhaps having reduced the cumulative impact of both the climate and reserve issues.

Third, the company, which will be choosing a new CEO next year, may have felt it was better to have outgoing leadership deliver the bad news and leave new management a much smaller company but one with a cleaned-up balance sheet.  

Fourth, ExxonMobil may have wanted to avoid fanning the flames of the congressional attack on the SEC investigation, which was initiated by Rep. Lamar Smith (R-TX), the chairman of the Science, Space and Technology Committee.  The Smith initiative was coming off as dubious ploy, in part because the SEC does not come under his committee's jurisdiction.
While ExxonMobil appears to be trying to calm the situation vis-á-vis the SEC, it has taken aggressive action over the past few weeks on subpoenas issued by the New York attorney general. The company has asked a Texas District Court to quash the subpoena, which was recently upheld by the New York Supreme Court. The motion consists of a broad perfunctory legal challenge based on federal statutes and ignores the attorney general's authority under the New York State Martin Act, a statute that grants broad deceptive-practice investigative powers to the New York attorney general.
These all leaves many questions for investors. Among them:
Will the value adjustments at the end of 2106 be a precursor to further adjustments in 2017?

Does ExxonMobil's financial forecast now include 1) permanently high levels of debt; 2) reduced net income in the $15 billion range; 3) end-of-year cash balances (minus proceeds from borrowing) below $10 billion; and 4) shareholder distributions of approximately $15 billion per year, half average annual amount over the past decade?

Did ExxonMobil's stock performance over the past two years benefit in comparison to other major oil companies (BP and Royal Dutch Shell) because it did not reduce its valuations when those companies did?
ExxonMobil owes its investors full transparency in its year-end disclosures, including transparency into how it calculates its finance. And it should provide investors with its oil price forecast and its assumptions regarding cost controls and projected margins across its entire portfolio, not just where it has determined that value adjustments are necessary.  
Tom Sanzillo is IEEFA's director of finance.
RELATED POSTS:

IEEFA Exxon: The Problems Are More Than Cyclical

Bloomberg News: 'Exxon Enters No Man's Land'

IEEFA Report: "Red Flags on Exxon Mobil"