Potentially Irreversible Slide; Falling Revenues, Rising Debt, Shrinking Capex, Weak Cash Balances Add to Growing Reputational Risk Tied to Climate-Change Controversy; ; Institutional Investors Owe Their Shareholders a Fiduciary Review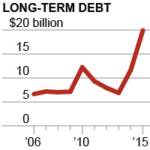 CLEVELAND, Oct. 26, 2016 (IEEFA.org) — The Institute for Energy Economics and Financial Analysis (IEEFA) published a report today that indicates deep financial weaknesses at ExxonMobil (XOM) and suggests the company is in potentially irreversible decline.
The report—"Red Flags on ExxonMobil (XOM)"—by IEEFA Director of Finance Tom Sanzillo, cites key metrics that include a 45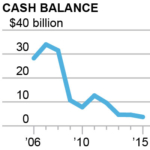 percent drop in company revenue over the past five years, a growing reliance on long-term debt to cover shareholder dividend payments, and declines in capital expenditures, end-of-year cash balances, and free cash flow—all signs of significant deterioration. ExxonMobil's stock performance in the meantime has trailed the S&P 500 for 10 quarters in a row.
The report urges institutional investors in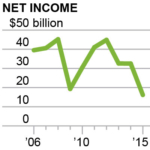 particular to question ExxonMobil's financial and management strategies. "Both ExxonMobil and its investors find themselves in a pivotal period," the report says. "The company's financial performance alone suggests an enterprise facing a much smaller market for its product."
Sanzillo said ExxonMobil warrants urgent attention in part because it is the last of the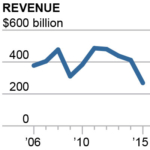 major oil companies among the S&P 500's top 10 stocks by market capitalization. That list once included seven major oil companies, a presence that has been usurped by technology companies, consumer-goods stocks, and telecommunications companies.
"The company is emblematic of the once dominant energy industry that now takes a back seat to other sectors of the global economy," Sanzillo said. "Corporations that specialize, by comparison, in information technology, manufacturing, finances, consumer goods and telecommunications are all growing at faster rates than the oil industry—and they all have more stable outlooks."
The report shows that oil prices, the main driver of ExxonMobil's decline, have been on a largely downward path since 2011, and notes that ExxonMobil CEO Rex Tillerson said at the annual Oil & Money conference in London last week that low prices will persist for years to come.
The report drew notice from public and private investors alike.
"This report raises timely and important questions that we will be studying further," said John Adler, chief pension officer and director of the New York City Mayor's Office of Pensions and Investments, which oversees more than $150 billion in assets.
Bob Litterman, a former head of risk management at Goldman Sachs, said, "I applaud IEEFA for its eye-opening report on the rapid deterioration in the financial outlook for ExxonMobil and its focus on the risks posed by low oil prices associated with the rapid transition to a low-carbon economy."
"Companies such as ExxonMobil, which focus on large, expensive, long-horizon extraction of oil from expensive sources such as from oil sands, and arctic and deep sea drilling, are at risk from declining demand and plentiful low-cost supply," said Litterman, who said he has synthetically hedged out stranded-asset exposure in his personal portfolio and is shorting ExxonMobil. "One suspects that the specter of a permanent glut of oil, not to mention potentially huge liability for climate-related damages, is not yet priced into its shares. "
The report notes also that ExxonMobil is being hampered now by reputational and headline risk associated with questions over whether it has been fully transparent in how it has managed climate-change risk.  Two inquiries—by the Securities and Exchange Commission and the New York Attorney General—have been mounted in response to questions as to whether ExxonMobil has accurately priced its reserves, a key guidepost for investors.
"Investors—institutional investors in particular because of their fiduciary responsibilities to their shareholders—are faced now with hard questions about the red flags surrounding ExxonMobil's financial performance and issues under investigation by securities regulators," Sanzillo said.
ExxonMobil will release its third quarter 2016 results on Friday, Oct. 28.
Full report here: "Red Flags on Exxon Mobil"

ExxonMobil Financial Performance, 2006 – 2015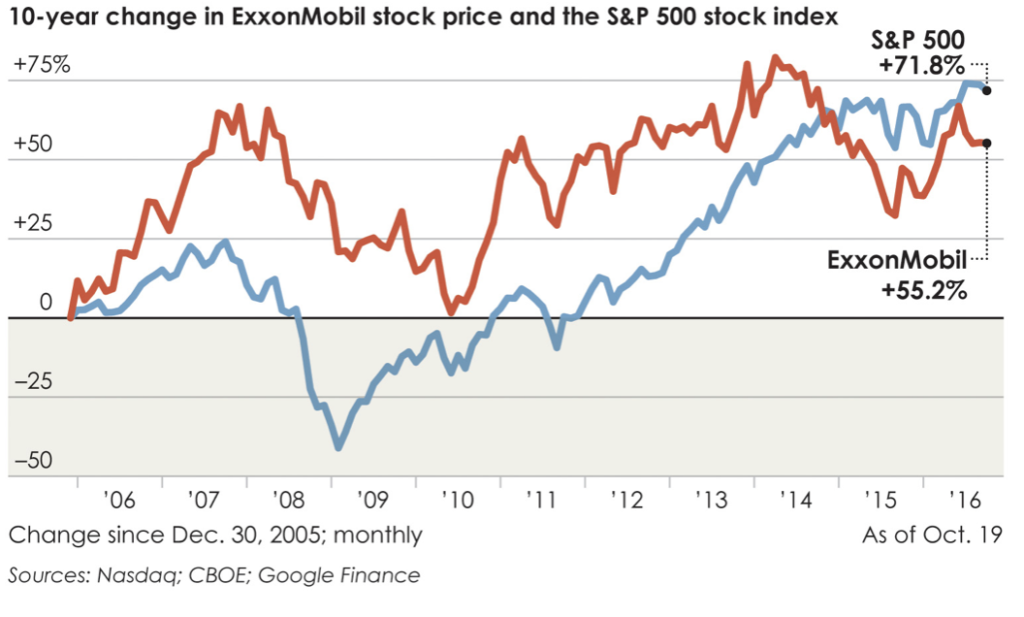 ExxonMobil: Net Income, Shareholder Distributions and Free Cash Flow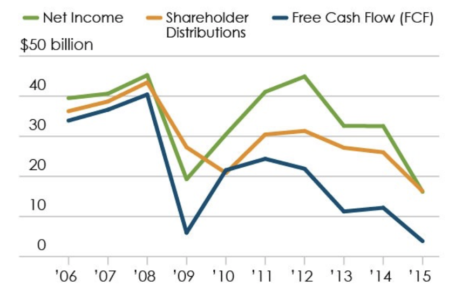 Media contact: Karl Cates, [email protected], 917.439.8225
---
About IEEFA: The Cleveland-based Institute for Energy Economics and Financial Analysis (IEEFA) conducts research and analyses on financial and economic issues related to energy and the environment. The Institute's mission is to accelerate the transition to a diverse, sustainable and profitable energy economy and to reduce dependence on coal and other non-renewable energy resources.