Exxon's U.S. upstream division makes up little ground in the Permian Basin
August 9, 2021 (IEEFA) – ExxonMobil's U.S. upstream operations have yet to regain their footing after a decade of turmoil. While the second quarter of 2021 was the company's best in years, ExxonMobil has invested $61.5 billion on U.S. upstream capital projects since 2013, only to report $5.3 billion in cumulative losses.
These losses may be a bitter pill for investors to swallow, especially as the company's ambitious projects in the Permian Basin continue to play center stage in its turnaround strategy, according to a new briefing note by the Institute for Energy Economics and Financial Analysis.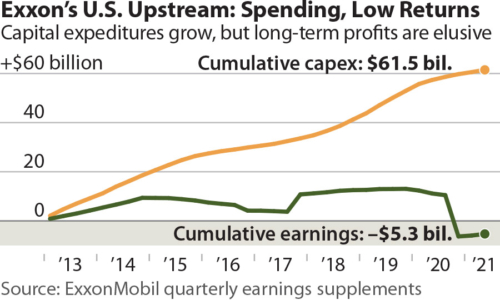 ExxonMobil posted $4.7 billion in earnings during the second quarter, driven in large measure by its petrochemical and international upstream divisions. The company's U.S. upstream segment posted a $663 million gain, its best result since 2017. The return represented a $300 million gain from the first quarter of 2021. 
Despite reporting improved profits, ExxonMobil's U.S. upstream division remains troubled.
"The problems may be easiest to see in the Permian Basin," said Clark Williams-Derry, an IEEFA energy finance analyst and lead author of the analysis. "ExxonMobil has repeatedly described the Permian Basin as one of its key growth projects to investors, yet the company has downgraded the basin's prospects for both production and cash generation." 
A quick recounting of the company's Permian ventures reveals an ever-shifting narrative. In 2017, ExxonMobil announced the Permian as one of the company's key growth projects and said it would start to generate cash within three years. Yet the company repeatedly missed its ambitious targets, fueling skepticism about its future prospects in the basin.
"There is a predictable result to fracking projects, especially those aimed at achieving rapid production growth," said Williams-Derry. "Fracking requires huge capital expenditures on drilling and completing wells, which typically leads to years of cash burn as the projects ramp up."
A quick recounting of the company's Permian ventures reveals an ever-shifting narrative
Instead of backing away from the project as its financial performance floundered, ExxonMobil doubled down on the Permian Basin. In March 2019, the company told investors that it set a new goal of producing 1 million barrels of oil a day by 2024, or about two-thirds more oil than it had previously promised. It has since walked away from the production commitment and recast its Permian financial strategy as long-term and value-driven, rather than a production of short-term cash. 
"ExxonMobil may never have been in a position to reach all of its ambitions for rapid growth, quick cash generation and long-term profitability at the same time," said Tom Sanzillo, IEEFA director of financial analysis. "We now know that all of these goals were unachievable simultaneously, and we don't yet know whether any of them are achievable at all."
Full report: ExxonMobil's U.S. Upstream Results Underwhelm, Again
Author contacts
Clark Williams-Derry is an IEEFA oil & gas analyst.
Tom Sanzillo is IEEFA's director of financial analysis.
Media contact
Muhamed Sulejmanagic, +1 (313) 246-4547
About IEEFA: The Institute for Energy Economics and Financial Analysis (IEEFA) examines issues related to energy markets, trends and policies. The Institute's mission is to accelerate the transition to a diverse, sustainable and profitable energy economy.