Investment in Sun-Powered Electricity Has Gone Mainstream Around the World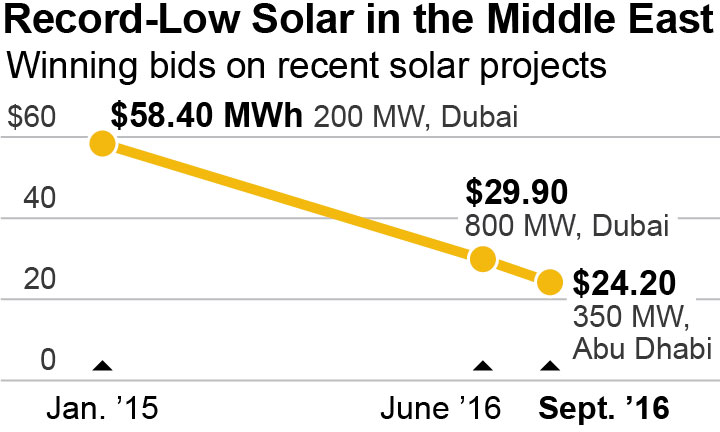 The US$24.20/MWh tender for 350 megawatts of solar in the Middle East shows the price of solar dropping by 20 percent from US$30/MWh in five months and down now two-thirds from the US$58/MWh tender awarded just 20 months ago. (Here's the story that appeared in The National, the government-owned news organization in Abu Dhabi, and here's some follow-up elaboration by Bloomberg News).
This is real, and the rate of change is accelerating, not slowing.
The question now for the coal industry: How can seaborne thermal coal compete with solar at US$24/MWh?
It can't, really, and the direction and trend of solar is clear and certain. Wondering if solar grid parity in any particular region will hit in 2015 or 2025 is irrelevant when the alternative is building new 40-year-life coal plants that take five years to commission and then are only justifiable if you assume no carbon price  and no restrictions on water and air pollution over the project life.
Where, then, is the financing for new coal-fired power plants in a behemoth like Indonesia coming from? The answer: via subsidized state loans from the China Development Bank and the Japan Bank for International Cooperation. Remove the subsidies—an eventuality that could very well come to pass—and the coal plants won't be built.
If and when the Asia Infrastructure Investment Bank modernizes its energy-investment paradigm and provides similar support to solar, it is game over for coal in Indonesia, the fourth most populous country in the world and the biggest exporter of thermal coal. Such support probably won't happen for 5-10 years in Indonesia, given all the opportunities for mine-mouth coal production. But regional change will come nonetheless. Look to the governments of Vietnam and the Philippines to be worried about the effects of current account deficits of even more imported fossil fuels, and look for national economies across Asia to replicate the now firmly established trends toward renewables in the biggest economies: China, Japan and India.
Indonesia will probably be one of the last to move given its well-established cheap domestic mine mouth coal model and strong demand for more electricity to underpin economic growth
Stranded asset-risks are real and rising. Even the International Energy Agency, not known for bucking conventional wisdom, is now predicting that with the decoupling of electricity demand from economic growth China will see no new thermal power generation for the rest of this decade. The IEA's own report this month shows how China coal peaked in 2013.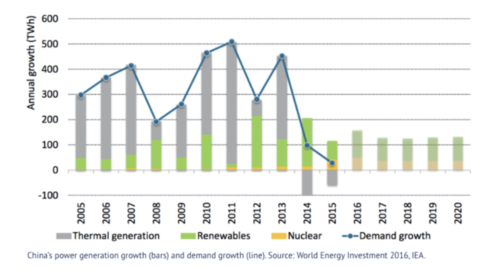 Solar is set to attract US$100bn investment in 70GW of new installations globally in 2016. It is getting very mainstream and very cost competitive, very quickly.
Tim Buckley is IEEFA's director if energy finance studies, Australasia.

RELATED POSTS:
IEEFA Asia: Higher Coal Prices, But Not Because of Demand in China and India
IEEFA Asia: International Investors Are Buying Into India Renewables Boom

IEEFA Australia: Adani's Carmichael Coal Project Remains Unbankable