December 8, 2020 (IEEFA) —Facing low prices and weak demand, a cross-section of 33 shale-focused oil and gas producers cut their capital expenditures (capex) to their lowest level in more than a decade, according to an analysis released today by the Institute for Energy Economics and Financial Analysis.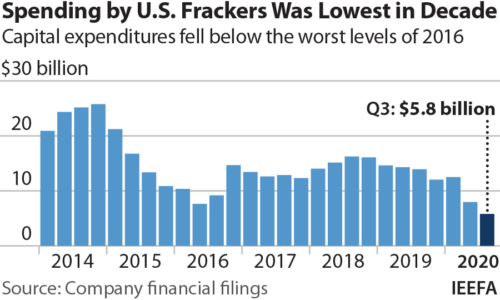 Thirty-two of the 33 companies cut capex from the previous year's third quarter, reducing spending to $5.8 billion, down from $13.9 billion in the third quarter of 2019. The reductions helped the companies generate $2.6 billion in free cash flow (defined as the amount of cash generated from core business operations, minus capital spending), the strongest results since the dawn of the fracking boom.
While beneficial in the short term, the capex reductions are likely to prove disastrous over time, said Kathy Hipple, an IEEFA financial analyst and lead author of the briefing note. Since shale wells deplete rapidly, companies must continually drill new wells to maintain production.
"These steep cuts suggest that the U.S. shale sector has stopped investing in its own growth," Hipple said. "Moving forward, U.S. shale companies may continue to restrain capital spending to conserve cash and stave off bankruptcy. But these results reinforce the idea that the oil and gas industry has pulled back from investing in its future and instead has settled for managing its own decline."
More than 250 exploration and production companies in North America have filed for bankruptcy since 2015, restructuring more than $175 billion in debt. Even though the 33 companies reported aggregate operating cash flows of $8.4 billion during the third quarter of 2020—a substantial increase from the $5 billion recorded in the second quarter—the figure fell far short of the average of the past several years. The poor results have spurred an increasing number of banks to stop lending to the oil and gas sector.
"Continued weak prices, uncertain global demand, and a history of financial underperformance have left U.S. shale companies struggling to attract new capital," Hipple said. "These financing challenges may soon accelerate."
Full report: U.S. Frackers Slash Capital Investment to Lowest Level in Over a Decade
Author contacts
Kathy Hipple ([email protected]) is an IEEFA financial analyst.
Clark Williams-Derry ([email protected]) is an IEEFA energy finance analyst.
Tom Sanzillo ([email protected]) is IEEFA's director of financial analysis.
Media contact
Vivienne Heston ([email protected]) +1 (914) 439-8921.
About IEEFA
The Institute for Energy Economics and Financial Analysis (IEEFA) examines issues related to energy markets, trends and policies. The Institute's mission is to accelerate the transition to a diverse, sustainable and profitable energy economy.