Bangladesh's energy transition is starting to take shape. Its renewable energy share is increasing after the commissioning of several projects recently and the signing of several new contracts for utility-scale clean energy projects. At this stage of its transition, it is crucial that policymakers drive an orderly transition, or else the country will need to withstand high costs.
Measures such as competitive renewable energy procurement, building the sector's project developers' confidence, minimising disparity between generation capacity and demand and frontloading efforts for a gradual energy transition will help prevent past mistakes.
Reportedly, Bangladesh spent more than Bangladeshi Taka (Tk) 1,040 billion (US$9.46 billion) on capacity payments to independent power producers (IPPs) and rental plants in the last 14 years. Yet, the power sector still faces many challenges. Policymakers now should, therefore, undertake well-thought-out and calibrated actions.
Competitive Renewable Energy Procurement
Renewable energy costs continue to fall globally. For instance, the global levelised cost of electricity (LCOE) from utility-scale solar projects declined by a massive 89%, from US$0.445/kilowatt-hour (kWh) to US$0.049/kWh between 2010 and 2022. In Bangladesh, the fall has been less dramatic and between 2015 and 2022, tariffs for utility-scale solar reduced by 47.8%, from US$0.1897/kWh to US$0.099/kWh (see Figure 1).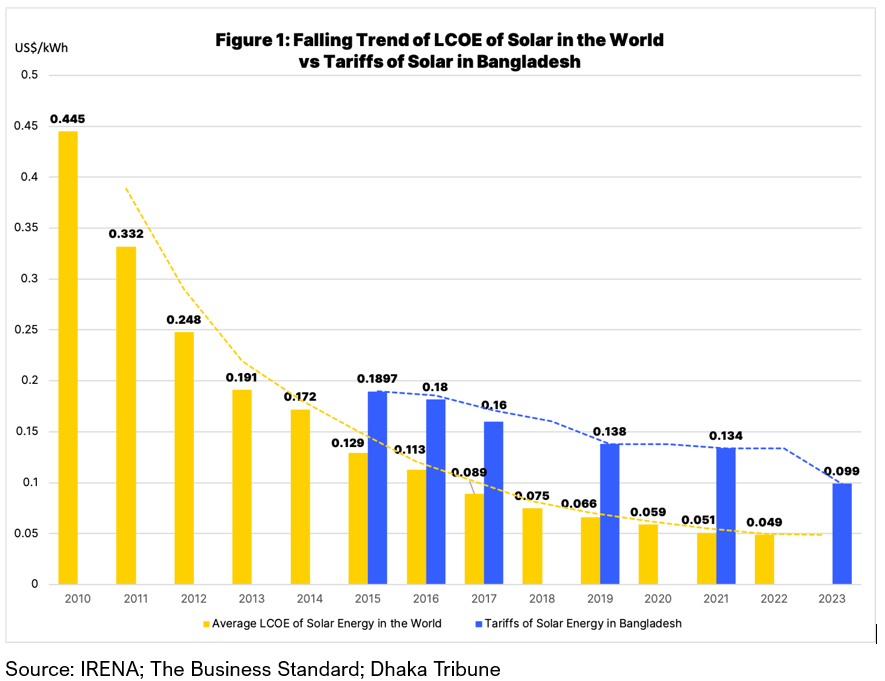 A sharp fall in the weighted average cost of solar panels between December 2009 and December 2022 was the primary reason for the drastic drop in global solar LCOE. The shift from feed-in-tariff support schemes to auctions also played an important role.
In Bangladesh, however, there is a drumbeat of despair. Land scarcity, costs of developing transmission lines and the absence of competitive bidding suggest that solar tariffs have little room to fall further in the foreseeable future.
Land is an issue that is hard to tackle. Land ownership is highly fragmented. An area of 300 acres, a typical requirement for a project of 100 megawatts (MW) capacity, will have many owners, making land acquisition difficult. Further, the need for developers to build long transmission lines to connect to the nearby substations raises costs substantially. Finally, the absence of competitive bidding results in tariffs not fully reflecting the falling technology costs worldwide.
Now that Bangladesh faces high generation costs and revenue shortfalls to make payments to the private sector plants, it should take a market-based approach to foster competition to drive down costs.
The government can also provide companies the confidence to develop projects by identifying suitable land and shouldering the costs of transmission lines. It could also allocate land from the coal plants scrapped in 2021 to new solar projects. Moreover, the government would be better off if it bears the one-off costs of building transmission lines, as this would significantly reduce tariffs and benefit the power sector for 25 years.
Divergence between Power System Capacity and Utilisation
As of September 2023, the total installed power generation capacity stood at 25,339MW, excluding captive and off-grid systems. The highest power demand served in the country was 15,648MW at 9pm on 19 April 2023, representing 62% utilisation of the system capacity.
Considering the maximum load shedding of 428MW at 9pm on 19 April 2023, the capacity use would only reach 63.5%. Further analysis of data between May and August 2023 shows that the highest capacity utilisation was 60% on 26 July 2023. Combining the load shedding amount of 244MW, the capacity utilisation would increase to 61%. This means Bangladesh's power system has a significant surplus capacity after keeping a reserve margin of 15 to 20%.
While the power demand projection based on GDP growth has been problematic so far, the discourse on the industry sector's stagnant growth in grid electricity demand is much less. The unreliable national grid prompts many industries to count on captive power generation systems, mostly run on natural gas. Industries also use diesel-run captive generators.
Industries are supposed to keep captive systems as backups, but many use them for uninterrupted power supply.
The Bangladesh Power Development Board estimates that the country has a captive power generation capacity of 2,800MW. Another study found that captive generation capacity has already soared to 4,486MW. This is why the industry sector consumes only around 28% of the annual electricity generated by the national power system.
Now that electricity from captive systems is no longer very cheap, following gas price adjustments earlier this year, industries need high-quality grid electricity. Therefore, Bangladesh needs to modernise its grid and transmission and distribution system to encourage industries, heavily dependent on captive generation, to shift to the national grid. This will deliver two-fold benefits - higher capacity utilisation of the national grid will minimise capacity payments and less use of inefficient small captive systems will reduce fuel consumption.
The government should further review the upcoming Integrated Energy and Power Master Plan and downgrade the projected demands, especially given the lower demand compared to the power sector's significant capacity. Since a good number of projects are already under construction and a nuclear power plant of 1,200MW will likely be available next year, Bangladesh will not face power system capacity issues in the foreseeable future.
A Gradual Energy Transition  
Bangladesh should attempt a gradual and smooth energy transition for which it must build on past experiences. For instance, six million solar home systems improved the living standards of 20 million rural people. However, attaining universal electricity access in 2022, solar home systems eventually became redundant. With available grid connections, owners of solar home systems did not have the intrinsic motivation to spend money on maintenance or battery replacements. The small number of owners who still want the maintenance or replacement services do not find the same as the shrunk business prospect triggered service providers of solar home systems to leave rural areas. Stakeholders of the sector note that most of the six million solar home systems are now stranded assets.
Had the grid connections in off-grid areas been delayed by a few years, these solar home systems could have remained active, serving the need during the energy crisis.
Likewise, the growing interest in renewables is positive, but the country needs to assess the advantages and disadvantages of high solar tariffs. The country may draw lessons from the high cost of power sector capacity expansion while the demand growth remains sluggish, for example, in the industry sector. Of course, it should support renewable energy project developers and help create a favourable ecosystem for a market-based approach.
This article was first published by The Daily Sun.