From as early as 2027, southern Australian states are facing an imminent shortfall in gas supplies as existing sources are exhausted. However, a deeper focus on the demand-side of the equation could potentially eradicate the gas supply gap while reducing energy bills, thereby easing cost-of-living pressures. This report explains how there is a much stronger financial case for supporting energy efficiency and electrification than investing in costly new supply options.
Australia is leaving many cost-effective opportunities to quickly reduce gas demand on the table. It is lagging on energy efficiency, which offers significant untapped opportunities. It is estimated that an average existing home requires about five times more energy for heating and cooling than a new home built in 2024. This increases to more than eight times for the least efficient 5% of homes. Victorian examples suggest that relatively simple upgrades could reduce gas use for heating by more than 40%, with a return on investment of 16%. Industrial energy efficiency is also significantly untapped with large opportunities in better data analysis and revisiting how to best deliver energy services. For example, a recent program found that 80%-90% of the energy used by compressed air systems is wasted.
Electrification with efficient heat pumps also has the potential to dramatically reduce gas use in residential buildings and industry. If gas appliances were replaced by efficient electric appliances at the end of their life, the average Victorian home could save $1,200 a year on its energy bills. IEEFA estimated that each year of delay to ending the sales of new gas appliances costs Victorians a collective $912 million in locked-in lifetime costs. In many cases, early retirements of appliances are also cost-effective. Heat pumps are already available for the medium temperatures required in most light manufacturing applications and are being developed for higher-temperature applications.
Implementing both energy efficiency and electrification interventions in parallel will deliver additional financial benefits, such as ensuring that new equipment is not oversized or unnecessary.
IEEFA modelled nine illustrative energy efficiency and electrification opportunities in southern states' residential buildings and industry. While the modelling is indicative only and does not fully capture the potential benefits, it nonetheless illustrates the size of the potential.
The modelled interventions deliver significant gas use reductions in the long term: residential buildings' gas use decreases to zero by the early 2040s; and industrial gas use decreases by more than 60% by 2045 compared with 2022. In total, the interventions achieve a near 80% reduction in gas use across residential buildings and industry. They also achieve significant gas demand reductions in the short term, with a reduction in gas demand of about 22% by 2027 and a 42% reduction by 2030 compared with 2022.
The reduction in gas demand is particularly high in Victoria, with reductions of 30%, 52% and 93% respectively in 2027, 2030 and 2045 compared with 2022. This is due to the strong probable decrease in gas use for oil and gas production and associated chemicals production over the next two decades.
We found that these reductions could eradicate the gas supply gap. They could also reduce the requirement to redirect northern gas supplies to meet southern states' demand.
The alternative to delivering this reduction in gas demand would be to develop costly and emissions-intensive new gas fields and infrastructure. Three solutions are being considered: importing liquified natural gas (LNG); pipeline upgrades to deliver more gas from northern states; and developing new gas fields in southern states.
Building import facilities just to be able to receive liquified natural gas (LNG) in Victoria would cost between $250 million and $499 million. This is in addition to the high cost of LNG itself. LNG production is also extremely energy-intensive, adding about 20% to the emissions from gas combustion. Upgrading or building new pipelines is likely to be cost-prohibitive, with high capital costs required to be amortised over a short period of time. Transmission costs already represent a significant share of the cost of gas coming from Queensland to Victoria, and the long distances involved (more than 1,000km) mean it is an energy- and emissions-intensive task.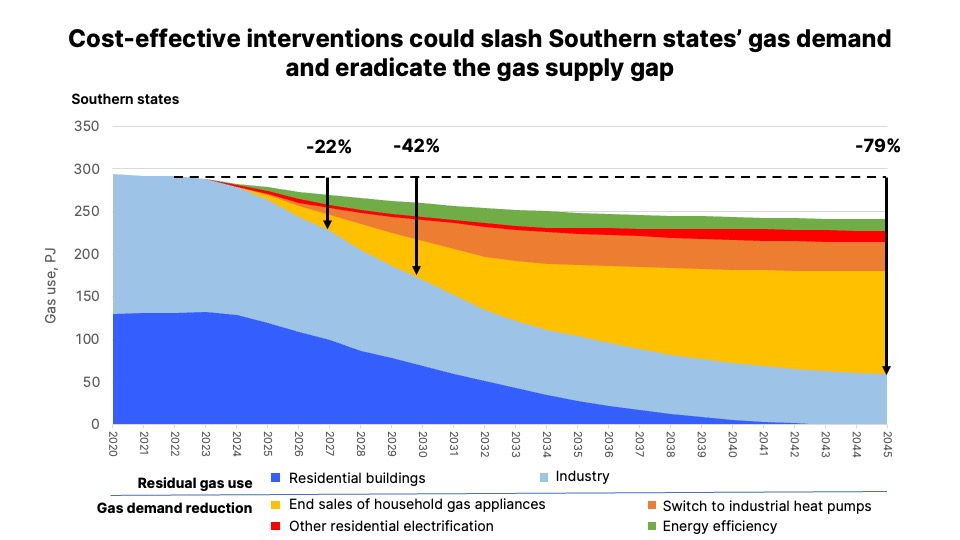 The Intergovernmental Panel on Climate Change (IPCC) and the International Energy Agency (IEA) are clear that achieving the objectives of the Paris Climate Agreement requires no new oil and gas developments. Therefore, developing new fields in Victoria is not an acceptable solution.
Energy efficiency and electrification present many additional benefits to the cost savings for consumers. Improved thermal efficiency was estimated to deliver 10 times as much savings in health costs as in energy costs, as well as improved wellbeing. Using electric cooktops rather than gas materially reduces childhood asthma risks. Investments in energy efficiency deliver multiple economic benefits, with nearly three times as many jobs created as when investing in new fossil fuel production, along with business productivity gains and a potential positive impact on Gross Domestic Product.
While electrification would drive increases in electricity use, ensuring that gas equipment is replaced by high-efficiency electric equipment and complementing electrification with energy efficiency measures would mitigate and may even offset this impact. Enabling new electric equipment to deliver flexible demand could also yield significant system benefits and reduce energy costs for all users.
Investments in energy efficiency and electrification will reduce energy bills, while every dollar invested in new gas supply, plus a profit margin, will have to be recovered through energy bills. Increasing the focus on demand-side opportunities can help alleviate Australia's cost-of-living crisis. IEEFA urges governments and energy agencies to consider these opportunities in more detail, and properly assess the costs and benefits of investing in reducing gas demand as compared to investing in increasing gas supply.