[EMBARGOED TO 16 NOVEMBER 2023] (IEEFA Australia): As interest rate rises bite and predicted shortfalls in gas supplies loom across Australia's southern states, a new report shows that smart interventions to increase energy efficiency and electrify equipment could eradicate the supply gap, while also easing the cost-of-living crisis. The report, from the Institute for Energy Economics and Financial Analysis (IEEFA), says rather than investing in new gas projects, a deeper focus on reducing gas demand in homes and industry is needed.
"Australia is leaving many cost-effective opportunities to quickly reduce gas demand on the table," says Amandine Denis-Ryan, chief executive of IEEFA Australia and the report's author. "Improving gas efficiency and fast-tracking electrification could kill three birds with one stone for Australia – eradicating the gap supply gap, reducing energy bills, and cutting emissions."
The report assesses a range of opportunities to reduce gas demand both in the home and in industrial settings. The end-of-life replacement of gas appliances with efficient electric equivalents has the potential to dramatically reduce gas use in residential buildings and in industry. For example, heat pumps require about one fifth as much as energy as gas boilers to provide the same heating output.
Energy efficiency measures also offer significant untapped opportunities. Relatively simple thermal efficiency upgrades could reduce gas use for residential heating by more than 40%, with a return on investment of 16%. Industrial energy efficiency also presents large opportunities in better data analysis, reduced losses and leaks, and innovative redesign of processes.
"Small-scale programs have shown that large gas savings can be achieved in industry from well-known technologies – for example by implementing heat recovery or metering systems. However, much larger savings could be achieved through innovation. A recent program found that 80%-90% of energy consumed by widely used compressed air systems is wasted," says Ms Denis-Ryan.
IEEFA modelled nine energy efficiency and electrification opportunities in southern states' residential buildings and industry. The modelled interventions deliver significant gas use reductions in the long term: residential buildings' gas use decreases to zero by the early 2040s; and industrial gas use decreases by more than 60% by 2045 compared with 2022. In total, the interventions achieve a near-80% reduction in gas use across residential buildings and industry. They also achieve significant gas demand reductions in the short term – by about 22% by 2027 and by 42% by 2030 compared with 2022.
"Ending sales of household gas appliances is by far the largest opportunity, representing two thirds of the potential gas reduction. It is also a large financial opportunity. If gas appliances were required to be replaced with efficient electric alternatives at their end of life, the average Victorian home could save $1,200 a year on their energy bills," says Ms Denis-Ryan.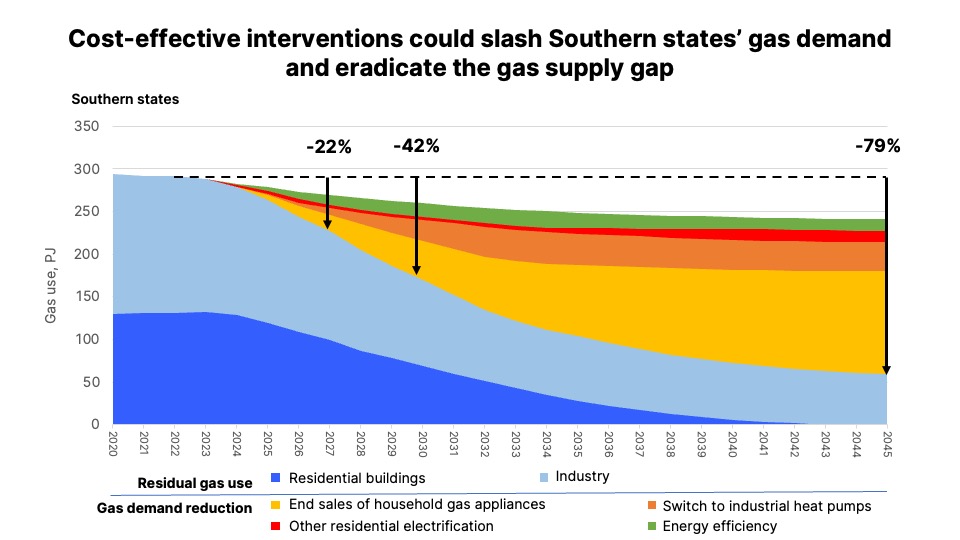 While demand-side measures such as energy efficiency improvements and electrification could bring energy bills down significantly, investments in new gas supply will come at a high cost. Supply-side measures that are currently being considered include: importing liquified natural gas (LNG); pipeline upgrades to deliver more gas from northern states; and developing new gas fields in southern states. All three options would entail large upfront capital investments for long-lived assets, which will need to be recovered, along with a profit margin, through energy bills. Investments in additional gas supply would also undermine national and global emissions reduction efforts.
"Building a new LNG import facility in Victoria would cost more than $250 million, before you even account for the cost of the LNG itself," says Ms Denis-Ryan. "Bringing gas down from Queensland to Victoria means more than 1,000km of travel through pipelines, which already costs about $5/GJ just for transport today, and presents a high risk of methane leakage."
In contrast, prioritising energy efficiency and electrification would reduce emissions significantly. Moreover, along with the cost savings for consumers, such measures would deliver a range of additional gains, including significant health and wellbeing improvements, and multiple economic benefits such as job creation and business productivity gains.
Ms Denis-Ryan adds: "Increasing the focus on demand-side opportunities can help alleviate Australia's cost-of-living crisis. Governments and energy agencies should consider these opportunities in more detail, and properly assess the costs and benefits of investing in reducing gas demand as compared to investing in ever more gas supply."
Read the report: Reducing demand – A better way to bridge the gas supply gap
Media contact: Amy Leiper [email protected] +61 (0) 414 643 446
Author contacts: Amandine Denis-Ryan, [email protected]
About IEEFA: The Institute for Energy Economics and Financial Analysis (IEEFA) examines issues related to energy markets, trends, and policies. The Institute's mission is to accelerate the transition to a diverse, sustainable and profitable energy economy. (ieefa.org)