Indonesia's coal industry is currently facing tough questions with prices below breakeven for all but one of 11 listed companies, as highlighted in our three previous Indonesian coal industry reports.
To boost coal demand, the Indonesian government is exploring policies which support downstream coal processing in the hope of finding profitable value addition niches.
One of the most advanced proposals is state-owned Tambang Batubara Bukit Asam's (PTBA's) proposed US$2 billion project in Sumatra for the construction of a coal gasification plant to produce methanol and subsequently dimethyl ether (DME). DME would then be used as a direct substitute in Indonesia's domestic liquefied petroleum gas (LPG) sector.
In a sign of the government's commitment to a new generation of fossil fuel subsidies, the recently passed Omnibus Law now grants royalty relief for any downstream coal projects.
What top planners have missed, however, is that technical viability is not the same as financial viability. The coal-to-DME process has been tried in other coal-rich countries but it has never been deployed at scale. Although there have been studies on the technical and operating aspects of a DME project for Indonesia, the one report on the economics of DME uses 2018 data when the price of LPG was US$591/tonne. This compares to the current price of around US$365/tonne — a level which robs DME of its competitiveness as an LPG substitute.
To test the financial viability of the proposed DME project, we used updated market prices and relevant coal sector project costs and compared these to costs from an operating DME plant in China as a proxy.
Our conclusion is that an Indonesian DME plant cannot be justified on economic terms. The proposed DME plant would lose US$377 million annually after operating and finance costs. This would exceed any savings from lower LPG imports by US$19 million.
On this basis, IEEFA's estimates indicate that the total per tonne cost of the proposed Indonesian DME plant would be US$470/tonne. This would value the energy in DME at nearly twice what consumers now pay for LPG. In the end, the Indonesian taxpayer will be paying more for less energy.
IEEFA's view is that the numbers on the proposed DME project do not add up:
PTBA is proposing to spend US$2bn to build a DME plant to produce 1.4m tonnes of DME using 6.5m tonnes of coal annually. This is to replace 980kt of LPG imports.
At the current LPG price of roughly US$365/tonne, the equivalent price of DME is a 30% discount or US$256/tonne. We used the average 2016-2019 non-coal DME production cost of US$300/tonne from listed company Lanhua in China, and the average Indonesian coal sector production cost of US$37/tonne, to derive our baseline costs. IEEFA estimates the total operating cost for the PTBA plant per tonne of DME would be US$470/tonne.
IEEFA expects that the US$2bn capital costs will be wholly debt funded at around 3.8% per annum for interest expenses of US$76m. At a price of US$256/tonne, the DME plant will incur an operating loss of about US$215/tonne on 1.4m tonnes for a total operating loss of US$301m. When interest expenses are added in, the DME project will lose US$377m per year.
Thus, not only is the project left with debt of US$2bn that it cannot service, there will also be an annual operating loss of US$377m. In theory, this loss could be offset in part by annual cost savings of US$358m from lower LPG imports. In a best-case scenario, including LPG cost savings, the project would result in a loss to the government of Indonesia (GoI) of US$19m.
Image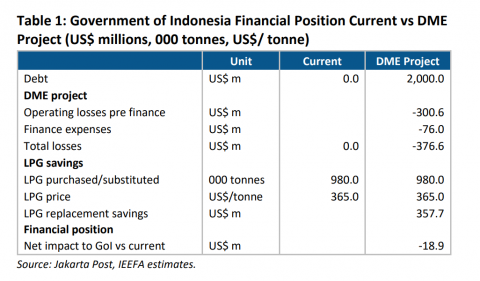 Please view full report PDF for references and sources.