Today, over 100 globally significant financial institutions have divested from thermal coal, including 40% of the top 40 global banks and 20 globally significant insurers. Momentum is building.
Since January 2018, a bank or insurer announced their divestment from coal mining and/or coal-fired power plants every month, and a financial institution who had previously announced a divestment/exclusion policy tightened up their policy to remove loopholes, every two weeks.
Global capital is fleeing the coal sector. This is no passing fad.
In total, 34 coal divestment/restriction policy announcements have been made by globally significant financial institutions since the start of 2018.
In the first nine weeks of 2019, there have been five new announcements of banks and insurers divesting from coal. Global capital is fleeing the thermal coal sector. This is no passing fad.
Since 2013 more than 100 global financial institutions have made increasingly tight divestment/exclusion policies around thermal coal.
When the World Bank Group moved to exit coal in 2013, the ball started rolling. Following, Axa and Allianz become the first global insurers to restrict coal insurance and investment respectively in 2015, and their policies have subsequently been materially enhanced. Next, some 35 export credit agencies (ECA) released a joint statement agreeing to new rules restricting coal power lending. In the same year, the China-led Asian Infrastructure Investment Bank trumpeted its global green credentials with the Chairman confirming the Bank was in practice ruling out finance for coal-fired power plants.
One of the strongest moves in 2015 came when the world's second largest sovereign wealth fund based in Norway (US$1 trillion) stepped up its exclusion criteria and started divesting from coal. When such a significant investor acts, global momentum increases.
In May 2018 Dai-ichi Life of Japan issued a new policy announcing it would no longer insure coal. Sumitomo Mitsui Trust Bank ruled out coal-fired power plant lending soon after. In September 2018 Standard Chartered announced the end of lending for new coal plants, anywhere in the world.
Image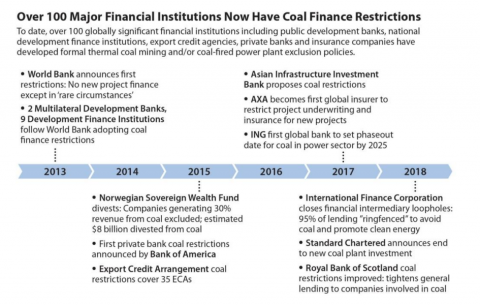 To close the year, some 415 global investors managing a collective US$32 trillion called for a complete thermal coal phase out by 2030 across the OECD.
By the start of 2019 over 30 global banks had ceased project financing for thermal coal mines and/or coal-fired power plants worldwide, without geographic loopholes.
In January 2019 GMO founder Jeremy Grantham stated thermal coal is "dead meat". During the month Export Development Canada (EDC) and Barclays both announced their exit from coal project finance, with EDC's commitment comprising all thermal coal infrastructure including ports and rail links.
When such a significant investor acts, global momentum increases.
In late January 2019 Varma of Finland announced its cessation from investing in coal while Nedbank of South Africa withdrew financing for two major coal-fired power plant projects in South Africa, then February 2019 saw VIG of Austria cease coal insurance.
Over 100 and counting. The implications of this are electrifying.
The financial institutions leaving coal behind are no ethically minded minnows – they are some of the largest across the globe. As extreme weather increases in frequency and extremity the list will continue to grow, while the lending exclusions and divestments will increasingly be delivered upon.
Press release: Coal plants in the PJM region are a losing bet for private equity investors
Please view full report PDF for references and sources.